Dubai property prices rise by 2% in May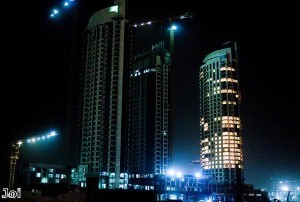 Dubai's property market continued its upward trajectory in May, with prices rising by more than two per cent on a month-by-month basis.
New figures provided by Reidin.com and the Dubai Land Department showed the demand for apartments is still rising.
Luxurious apartments were selling for an extra 2.13 per cent when compared with April 2013. This means the average value of this type of residential building went up by an impressive 17.3 per cent year-on-year.
Villa prices were also up by 1.56 per cent month-on-month and 12.2 per cent year-on-year.
All of this highlights the strength of the recovery witnessed in the emirate's real estate sector in the past 12 months and levels of investment are predicted to rise even further by the end of 2013.
The growing demand for upmarket accommodation in the city enabled landlords to raise their rents in May.
According to Reidin.com's Residential Property Price Index, rents went up by 1.8 per cent between April and May, resulting in a near 12 per cent increase year-on-year.
These figures tie in with an earlier study by Reidin.com, which focused on sales in the iconic Burj Khalifa building.
The website said apartments in the tallest skyscraper on the planet were selling for AED 3,362 (£593) per square foot - a significant rise on 2012, when the same swanky pads were being purchased for AED 2,550 per square foot.
Yash Shah, sales manager at SPF Realty, told Emirates 24/7 that upmarket parts of the city like Downtown Dubai and the Dubai Marina are still attracting plenty of attention from investors.
With many parts of the world still experiencing financial problems - most notably the eurozone - people have been increasingly turning to the UAE for safer investments.
Dubai is one of the most appealing locations in the Gulf thanks to its stable government and excellent infrastructure. Wealthy traders are also aware that building developers have been resurrecting a plethora of exciting building projects across the city that had been shelved at the height of the global economic crisis.
The First Group can help you find a superb selection of properties for sale in Dubai