Dubai property prices continue to rise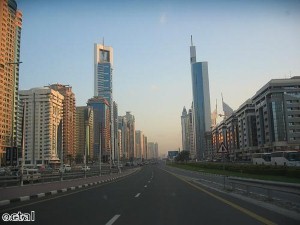 The growing demand for accommodation in Dubai continues to drive property prices upwards.
There has been a sharp rise in the number of foreigners securing well paid jobs in the emirate in recent years and the clamour for luxurious villas and apartments has intensified.
According to a new report by Cluttons, house prices rose by an impressive 31 per cent in the first half of 2013 when compared with the corresponding period in 2012.
Villa prices were up by 21 per cent year-on-year in the second quarter, while the average value of an apartment soared by 25.1 per cent.
Investors who had the foresight to snap up high-end properties when prices were at rock bottom are certainly reaping the rewards at the moment, with the strong demand for accommodation enabling landlords to hike their rents.
The Cluttons research indicated that rents grew by 11.3 per cent in the first half of the year and this has had a positive impact on neighbouring emirates.
Indeed, landowners in Sharjah were also able to increase their rents by 7.1 per cent between January and June 2013.
This is the latest in a series of studies that have highlighted significant growth in Dubai's real estate sector.
Earlier this month, the Dubai Land Department's Valuation Committee confirmed it had surveyed 2,388 properties in the first six months of 2013, which was a 41 per cent upturn on 2012.
This underlines the strength of the sheikhdom's economic recovery and Steve Morgan, head of Cluttons Middle East, is certainly not surprised by the recent improvement.
'The resounding success of Dubai's residential market so far this year should not come as a surprise given the magnitude of the correction recorded during the bottom of the market; we are still far off the previous peak, when growth was far more unsustainable,' he commented.
Developers are continuing to launch ambitious residential projects across the UAE and this will help to satisfy the ever-increasing clamour for apartments and villas in this vibrant part of the Middle East.