Dubai prepares for 2014 Motor Festival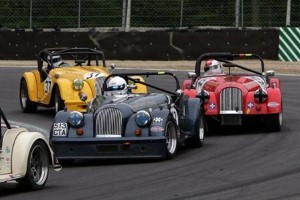 The Department of Tourism and Commerce Marketing (DTCM) has announced that this year's Dubai Motor Festival will have something for everyone, helping boost the number of tourists heading to the emirate.
Anyone arriving at Dubai International Airport via Terminal 3 will no doubt notice that there is an enormous advert for this year's event, which will take place between November 19th to December 6th, piquing the interest of any petrolheads passing through.
However, the DTCM claims that this year's festival will have something for everyone, with various events taking place at different venues across Dubai. The crown jewel of this year's gala will be the Grand Car Parade, set to feature hundreds of unique cars cruising around some of the emirate's most famous landmarks in a police-led convoy.
The festival kicks off with the Infiniti F1 Showrun - held at Skydive Dubai - which will involve a live demonstration by Red Bull F1 drivers Sebastian Vettel and Daniel Ricciardo of the team's RB7 race car, as well as Infiniti's Q50 Eau Rouge concept sports saloon.
On certain dates attendees will be able to take advantage of a supercar taxi service, allowing them to be driven to specific landmarks and malls in one of ten luxury motors for free! Tourists will be able to experience what it's like to travel in a Ferrari, Lamborghini or a Rolls-Royce without spending a penny.
During the festival, Meydan Racecourse will be temporarily transformed into a 'Motor Village', which the DTCM describes as "a fascinating world of motoring entertainment as it plays host to an elaborate line-up of activities". This will involve the return of the Red Bull Car Park Drift finals, enabling spectators to witness some spectacular driving as entrants compete for the 'King of Drift' crown.
In addition, festival attendees will be able to "experience F1 simulators, learn about motoring safety and be able to view up close some of the most exclusive motoring brands", according to the DTCM.
Starting last year, the Dubai Motor Festival is still in its infancy, but if this year's event proves to be as successful as 2013's then it could become a constant in the emirate's calendar of annual festivals.