Dubai Police unveil four new supercars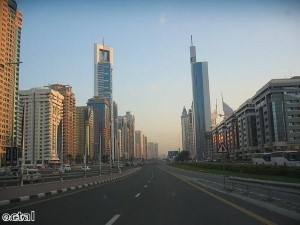 Dubai Police have shown off four new additions to its fleet of supercars.
The vehicles will be displayed as part of Dubai International Motor Show, which runs until November 9th.
It has added both a Mercedes Sl 63 and G Class Brabus to its fleet, alongside a Nissan GTR and its second Audi R8, all featuring the same green and white livery.
Dubai's fleet of police supercars are an unusual yet unique part of its tourism appeal - the vehicles are not used for official police work but instead look to create a positive image.
Speaking to the National, Dubai Police fleet director Nabil Abdulla Al Redha said: 'This is promoting the image of Dubai, this is just advertising. Because most people like sports cars. If you are putting an advert for just Dubai Police, perhaps not many people would be interested. But if you put an advert for a sports car, most people would be interested; people would be more attracted.'
Earlier this year, the emirate's police purchased a limited edition Aston Martin One-77 and, with the latest acquisitions, now boasts a fleet of twelve cars.
Alongside the tourism benefits, the police force's efforts highlight the strong motoring community in Dubai, of which it regularly involves itself with. For instance, this year's Dubai International Motor Show started with a parade of classic vehicles and modern supercars, with the police fleet participating.
The biennial motor show, taking place at Dubai World Trade Centre, is one of strong international significance within the industry and will see many big product unveilings during its run. This year's show has 15 per cent more space than 2011's, growing to meet the event's demand and needs.
Overall, more than 100,000 people are expected to attend the exhibition, which has over 600 vehicles on display, with companies such as Land Rover and Aston Martin being among the international car manufacturers showing off new models.
Yet the police cars also highlight the wealthy nature of Dubai, with supercars matching the lifestyle of individuals often found in the emirate.