Dubai Police adds Porsche's most expensive supercar to its patrol fleet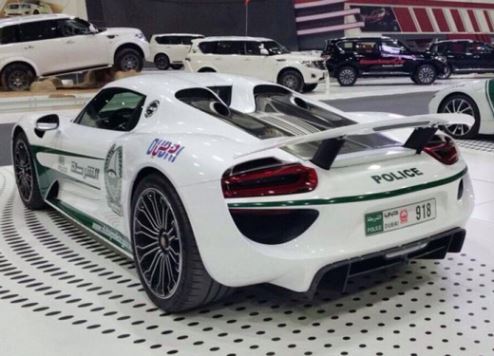 Dubai Police, which already counts some of the world's fastest supercars among its fleet of luxury patrol cars, has added another iconic sportscar to the list: the Porsche 918 Spyder.
The hybrid Porsche ranks as the German sportscar manufacturer's most expensive model, listing for US$840,000. Fittingly, just 918 of the Spyders have been manufactured, with Dubai Police being the world's only law enforcement agency to run the model on its fleet.
Dubai Police Chief Major General Khamis Mattar Al Mazeina said the acquisition of the hybrid 918, which is equipped with a 4.6l V8 engine and two electric motors, was in line with the force's environmental sustainability strategy.
The Porsche produces 887 horsepower and is capable of reaching a top speed of more than 300 km/h, yet uses just 3.9l/100km of fuel and produces CO2 emissions of just 72g/km, which is less than a Toyota Prius.
The 918 joins a growing list of iconic and hugely desirable sports cars on the fleet, including a Lamborghini Aventador, Bugatti Veyron, Ferrari FF and Aston Martin One-77. The force also acquired three Porsche Panamera hybrids last month.
The luxury sportscar fleet, which are equipped with in-car cameras and the latest communications technology, can be regularly seen at tourist hotspots around Dubai.