Dubai plays host to 'world's biggest' floating water park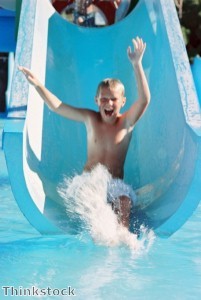 Dubai's credentials as a tourism hotspot have been bolstered further by the opening of a floating water park that is described as the biggest in the world.
The Beach Water Park launched in April 2014 and is located in the sea 150m off the shore of Jumeirah Beach Residence, adding another family-friendly attraction to the emirate's ever-growing list of facilities.
Angela Cid, business development manager at facility operator Arabian Water Parks, told news provider XPRESS: 'It's the biggest of its kind in the world. It has been designed and built to the highest of safety and quality standards, with 13 professional safety guards monitoring it very closely.'
Spanning 55m, the inflatable park is capable of holding 150 people at a time and offers a host of activities, including slides, trampolines, jumping cushions and climbing walls for children and adults.
Visitors can access the park by purchasing a ticket on the beach before donning wristbands and lifejackets and simply swimming out to the floating attraction.
Since its opening, the Beach Water Park has proven extremely popular, with a diverse clientele having been attracted despite the ostensibly child-oriented nature of the park. Indeed, more than 60 per cent of guests have been adults, according to figures from Arabian Water Parks.
Ms Cid added: 'The UAE is one of the most exciting beach holiday destinations and our park is a major draw for both tourists and residents.'
The opening of the Beach Water Park will make Dubai even more popular among lovers of water-based attractions, many of whom will have been compelled to visit the city by the nearby Wild Wadi Waterpark on Jumeirah Beach.
With more than 30 rides, the park has won a wide range of accolades over the years, including the Dubai Quality Gold Award for 2007 and a place on the World Waterpark Association's list of must-see waterparks in 2006.