Dubai plans cruise tourism boost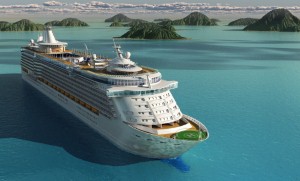 Dubai Tourism has revealed plans to make the emirate more popular for cruise tourism.
The subject was discussed at a ceremony on Tuesday (September 30th), which celebrated the impact public and private sector partners have had on the emirate's cruise sector to date.
Helal Saeed Almarri, director-general of Dubai's Department of Tourism and Commerce Marketing (DTCM), said cruise tourism has a part to play in meeting Dubai's target of doubling the number of visitors it attracts each year from ten million in 2012 to 20 million by 2020.
'We already have a very healthy cruise sector in Dubai as the home port of choice for cruise companies in the Arabian Gulf. To match the ambition of Dubai's tourist industry as a whole, we have ambitious plans of our own for cruises,' he stated.
Mr Almarri said some 450,000 cruise tourists are expected in the emirate by 2016 and the DTC aims to achieve 'continued, sustainable' growth in the sector up to 2020 and beyond.

'To achieve our goals, it is essential that we have the continued support of our partners, which is why today's ceremony is so important,' he added.
A number of organisations were recognised at the event, including the Dubai General Directorate of Residency and Foreign Affairs, which introduced the cruise tourism visa earlier this year.
Among the other groups to be commended were Dubai Police, Dubai Customs, Dubai Maritime City Authority and the airline Emirates.
The new cruise season is due to start later this month and Dubai is the central port for companies operating in the Arabian Gulf. It is thought the introduction of the cruise visa will help to increase the number of tourists who visit the emirate in this way.
Six vessels currently use Dubai Cruise Terminal as their home port and they are expected to make 83 trips in the upcoming season, compared to 63 the year before. A total of 110 ships are forecast to call in at the emirate between October and June, carrying more than 381,000 passengers. Some 320,000 tourists visited Dubai via a cruise last year.