Dubai Parks & Resorts wins prestigious WTM Leaders award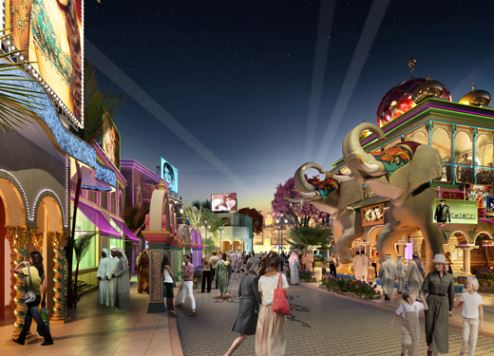 Dubai Parks & Resorts has won a prestigious World Travel Market London 2016 World Travel Leaders Award in recognition of its development of a theme park destination to rival Orlando.
The company received the coveted award at the WTM World Travel Leaders Award ceremony. It was presented by TTN Middle East's publishing director Kim Thomson and marketing director Fiona Sharp and collected by Vinit Shah, chief destination management officer, Dubai Parks & Resorts.
The awards give WTM London's Official Media Partners – which represent key travel industry media around the world – an excellent platform to congratulate and recognise those companies and individuals that have made significant and ground-breaking contributions to travel and tourism in their region or sector.
Three nominations from each of WTM London's media partners were judged in September by a panel of three, comprising an independent body, a representative of WTM London and the relevant media partner.
Dubai Parks and Resorts is set to become the Middle East's largest integrated theme park resort.
Most of its hotly-anticipated attractions have already opened their doors.
The region's first LEGOLAND Dubai theme park and Riverland Dubai, the multi-themed dining and retail destination that connects all of the theme parks, were the first to open on Monday 31 October.
They were followed by Bollywood Parks Dubai, LEGOLAND Water Park and the Lapita Hotel, based in Riverland, which opened on Tuesday 15 November.
The entire development will be open to the public by the end of the year, with MOTIONGATE Dubai scheduled to be unveiled on 16 December.
"Nothing of this magnitude has ever been done before and after three years of hard work it is a great honour to start to show our guests what we have achieved," said Raed Kajoor Al Nuaimi, CEO of DXB Entertainments PJSC, the owner of Dubai Parks and Resorts.
"As the largest entertainment destination in the region, Dubai Parks and Resorts will support the UAE's tourism vision and grow the family leisure industry in the region."
The destination is also setting new standards in innovation with 'smart' park technology initiatives including omni-channel customer interactions through mobile devices, web portals, RFID wristbands, smart kiosks and digital signage as well as smart ticketing, digital payments and smart parking.
The judges at the WTM World Travel Leaders Award said: "Watch out Orlando! This stunning initiative will reposition Dubai as the destination for family tourism, focusing on giving visitors the best experience through smart technology."