Dubai Parks and Resorts unveiled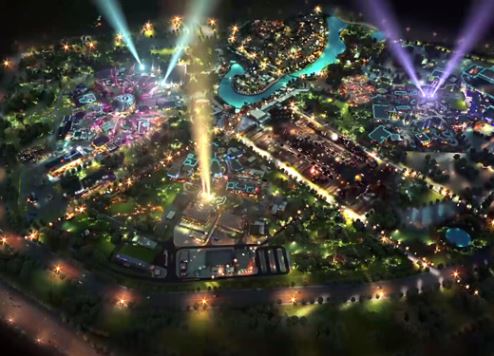 What to expect from the Middle East's largest theme park destination
Parks and Resorts announced last week that it will open its gates to the public on October 31.
This unique destination will comprise three theme parks - Bollywood Parks™ Dubai, MOTIONGATE™ Dubai, and LEGOLAND® Dubai, together with LEGOLAND® Water Park. The destination will also include Riverland™ Dubai, a themed retail, dining, and entertainment experience, along with the Lapita™ Hotel, a Polynesian-themed family resort.
"This has been a long-time coming and I can't say enough about how excited we are to welcome our guests to the destination," said Raed Kajoor Al Nuaimi, CEO of Dubai Parks and Resorts. "Nothing of this magnitude has ever been done before, and we look forward to offering our guests close to 100 unforgettable rides, attractions and experiences. As the largest entertainment destination in the region, Dubai Parks and Resorts will create jobs in Dubai, support the UAE's tourism vision and grow the family leisure industry in the region."
Annual passes for the attraction are currently on sale at dubaiparksandresorts.com, and daily pass details will be announced soon.
Here's a run-down of what the mega theme park will offer its visitors:
Bollywood Parks™ Dubai
Bollywood Parks™ Dubai is the first-ever Bollywood-themed park in the world, providing guests with a flavour of Bollywood and Indian culture through immersive rides, delicious food, stunning live performances and extravagant entertainment.
Bollywood Parks™ Dubai will feature cinematic rides and attractions for families and visitors of all ages, providing them with the opportunity to experience recreations of some of Bollywood's biggest blockbusters such as Don, Lagaan, Sholay, Krrish and RA.One, through state-of-the-art 3D and 4D systems, as well as a stunning stunt show, live performances and hot sets based on the Dabangg, Rock On!! and Zindagi Na Milegi Na Dobara.
The park will also boast six themed restaurants ranging from Mughal-e-Azam, the fine dining restaurant, to the Juhu Juice Bus, housed in a life-size replica of a Mumbai bus, in addition to several street-style food carts.
One-of-a-kind Bollywood performances will take centre stage at Bollywood Parks™ Dubai with 200 dance performers stunning guests with intricate routines. Up to 20 live shows will take place across five stages; Rock On!!, Crossroads, Mumbai Express, Rangmanch and Stars on Steps.
At the heart of the park is the magnificent Rajmahal Theatre, an 850-seat opulent theatre that will host a separately ticketed Broadway-styled Bollywood musical several times a week.
MOTIONGATE™ Dubai
MOTIONGATE™ Dubai, the largest Hollywood-inspired theme park in the Middle East, unites three legendary film studios for the first time within one theme park – Sony Pictures Studios including the Smurfs, DreamWorks Animation and Lionsgate. Visitors will be given the chance to go beyond the screen and immerse themselves in the magic of Hollywood, ensuring fun for the whole family and creating memories to last a lifetime.
In the Sony Pictures Studios Zone, guests can blast ghosts in the exciting Ghostbusters dark ride, ride their own Black Beauty aboard The Green Hornet: High Speed Chase roller coaster or freefall from the 58m Zombieland: Blast Off tower. In Smurfs Village Zone, families will be invited into the charming mushroom-capped world of the loveable Smurfs, featuring five exciting rides and attractions including the world's first Smurfs-inspired roller coaster, Smurfs Village Express.  For live entertainment, fans of music will love Step Up Dubai, All In – a high-energy hip hop show inspired by the popular film franchise, Backlot Beat, a pop-infused musical show or the dancing Ghostbusters band. 
The fully-indoors DreamWorks Zone will feature 12 exciting rides and attractions including roller coasters, dark rides and interactive adventure areas, plus five live entertainment experiences. Here, guests will be transported into completely immersive lands inspired by Shrek, Kung Fu Panda, Madagascar and How To Train Your Dragon, bringing their favourite films and characters to life like never seen before. In the Lionsgate Zone, guests will experience the world's first theme park attractions inspired by The Hunger Games, showcasing a thrilling roller coaster and an exciting 3D motion simulator.
LEGOLAND® Dubai and LEGOLAND® Water Park
LEGOLAND® Dubai is the ultimate world of year-round LEGO®-themed adventures for families with children aged 2-12. It will feature more than 40 interactive rides, shows and attractions and 15,000 LEGO model structures made from more than 60 million LEGO bricks. It has been designed to provide a full day's interactive, theme park experience.
LEGOLAND comprises six themed lands, each unique in their experience, entertainment and educational offering, including:
LEGO CITY, where children can indulge in a range of playful learning opportunities including flying a plane at the LEGO City airport, steering a boat at the boating school, or earning a LEGOLAND driving license at the driving school.
KINGDOMS, where knights and princesses can explore a medieval land and conquer the exhilarating Dragon coaster, which takes you on a journey through the King's castle full of vibrant LEGO models depicting the era.
IMAGINATION, the perfect area for every LEGO fan to enjoy, spending hours playing, racing LEGO cars or taking advantage of the Master Builder Academy. Toddlers and small children will enjoy DUPLO® Valley while all will enjoy the Kid Power Towers to get a great view of the entire park before a gentle "free-fall" ride to the bottom.
ADVENTURE, for young explorers seeking thrilling antics while enjoying a captivating Submarine Adventure, Wave Racers that power through waves and dodge water blasts as well as an exciting escapade through ancient temple ruins to recover a pharaoh's stolen treasure.
MINILAND, the heart of LEGOLAND, comprising 20 million LEGO bricks featuring Dubai's iconic skyline and key landmarks from around the Middle East and international destinations. It is the first ever indoor air-conditioned MINILAND at a LEGOLAND park and also includes a 10-metre play table with white LEGO bricks.
FACTORY is where LEGO bricks are produced and guests can receive a personal brick fresh from the casting line.
LEGOLAND Water Park is located adjacent to LEGOLAND and is the only water park in the region designed specifically for kids aged 2-12 and their families. It will feature more than 20 water slides and attractions, each offering a different and fun-soaked experience including the highly anticipated Build-A-Raft River where children of all ages can customise their own raft using LEGO soft bricks, before floating down a lazy river with views of the entire park. Additional LEGOLAND Water Park features include the LEGO Wave Pool, the DUPLO Wave Pool: (especially for the smaller guests), DUPLO Splash Safari, Joker Soaker, Twin Chasers double body slides, Splash Out featuring a 60-foot drop, and many other attractions. 
Riverland™ Dubai
Riverland™ Dubai is a uniquely themed retail and dining destination located at the heart of Dubai Parks and Resorts. It has four themed zones that offer a fascinating glimpse into some of the greatest eras of the past – from 1950s America at The Boardwalk to medieval France at The French Village. There are more than 50 shops and restaurants while entertainment on offer will range from street performances to festivals and concerts.
Lapita™ Hotel
The Lapita™ Hotel is a Polynesian themed family hotel with 501 rooms and three villas and is part of the Marriott Autograph® Collection. The hotel is designed to bring a fresh approach to family vacations with facilities including adventure playgrounds, kids/teen and adult fun pools, child-friendly F&B outlets and family spas.