Dubai Parks and Resorts launches largest themed-event space in the region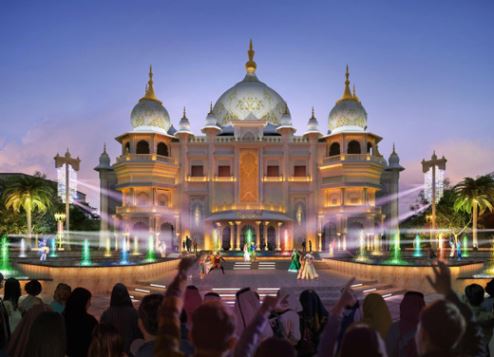 Dubai Parks and Resorts, the region's largest integrated theme park destination, has unveiled its collection of unique and tailor-made corporate and private event spaces.
The wide range of venue options raises the attraction's profile as the region's largest themed event destination, offering a solution and a space to suit every occasion and groups of all sizes. They include:
* The Rajmahal Theatre at Bollywood Parks Dubai, an 856-seat state-of-the-art theatre featuring LED screens, an enormous stage and high-tech lighting systems suitable for shows and events;
* The Hollywood Theatre at MOTIONGATE Dubai, featuring 1,000 seats with advanced projection screens to support movie premieres or corporate presentations;
* Dabanng Theatre, which can host up to 1,200 guests and features a massive interactive stage that can accommodate moving vehicles.
* Rock On!!, a restaurant in Bollywood Parks Dubai, which has the capacity for up to 500 guests depending on the setting and offering its own dedicated entrance;
* The Encore MPV, an 1,800-square-metre indoor multi-purpose venue, which can accommodate thousands of guests.
Ideal for weddings, receptions, corporate events and parties, the outdoor plazas at Riverland including Riviera Plaza (2,400 square metres), Boardwalk Plaza (1,150 square metres) and the Island Plaza (1,350 square metres), each offer their own unique atmosphere and personality.
Tamure Ballroom at Lapita Hotel Dubai, a 710-square-metre elegant indoor ballroom venue, can be split into four sections and offers room for as many as 1,000 attendees.
Lapita Hotel Dubai provides 2,200-square metres of indoor event space in total, ideal for hosting board meetings, product launches, corporate gatherings, and much more.
However, what is most unique about Dubai Parks and Resorts' MICE offerings is the ability to transform ride space into bespoke event space.
"Imagine your wedding reception inside the Hotel Transylvania Castle or a corporate outing inside a Bollywood railway station?" said Julien Munoz, vice president sales at Dubai Parks and Resorts. "We even offer our own in-house, fully-licensed catering services representing nearly every style of international cuisines. Our meeting and events team can truly transform any private or corporate event into an amazing, once-in-a-lifetime experience."