Dubai opens first night-time swimming beach in the UAE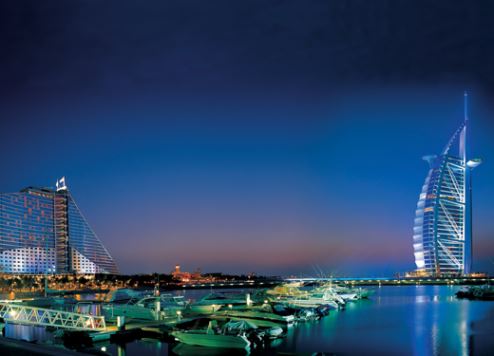 Dubai is known as one of the world's leading all-year-round beach destinations, thanks to its constant sunshine and hot temperatures.
Its sun-drenched beaches attract travellers from all over the globe and now they'll be able to hit the sand – and the sea – at night too, thanks to new technology that lights up the shores after dark.
Dubai has become the first emirate in the UAE to allow nighttime swimming, made possible by smart poles powered by wind and solar energy, producing a strong enough light to illuminate the sea.
The first two 'Smart Palm' poles have been installed on Umm Suqeim 1 Beach, a video posted by their manufacturer, D Idea Media, revealed.
The company, which also makes Smart Palm Wi-Fi stations, said small red floats with lights mark the points where people are permitted to swim, with the beach now open until 12 midnight.
To ensure swimmers remain safe, Dubai Municipality has appointed 84 additional lifeguards.
"We are focusing on ensuring the best safety measures for everyone and that's why we have appointed many lifeguards," confirmed the entity's director general, Hussain Nasser Lootah.
If the smart pole project proves successful, it could be rolled out at other beaches across Dubai, said D Idea Media founder and CEO Viktor Nelepa.
The 12-metre-high smart poles are installed some 25 metres from the sea.
"They illuminate the areas on the beach and the sea. The light can go as far as 30 metres in the water," said Nelepa.
Each pole has the capacity to generate about 1.5kW electricity per day. The poles are powered by a combination of wind and solar energy and are fitted with sensors that automatically turn on the lights when the sun sets.
"The sensors can measure the quantity of light, wind speed and movement of people as well," revealed Nelepa. "The spinning speed of the turbines can be adjusted based on the wind speed. If there is no wind, then the solar energy will charge-up the batteries."
The poles also feature digital screens to show weather warnings for swimming.
Nelepa said the smart lighting solution was invented, designed and manufactured in the UAE.