Dubai 'on track' for tourism target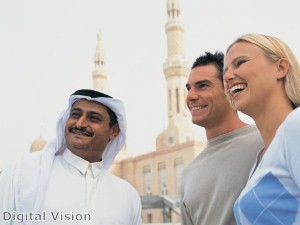 Back in May, Dubai's Vision for Tourism was announced, revealing the emirate's ambitious plan to attract 20 million visitors per year by 2020 - a goal that becomes more and more achievable with each passing month.
When making the announcment, Mohammad bin Rashid Al Maktoum, vice-president and prime minister of the UAE and ruler of Dubai, said: 'We are aware that such goals are ambitious, but more important than ambition is realising these goals in reality.'
'Dubai has had a number of tourist projects launched. Going ahead, we will have more projects, for instance, a number of theme parks [in the works] and a larger zoo by the Dubai government besides various retail projects. And then we have continuous renovation of our historic areas like Al Shindaga and Al Fahidi. I would expect over the coming years announcements on a lot more family projects.'
Since the cat was let of the bag, massive changes have been made in Dubai to make it more attractive to all tourists, including those looking for a family holiday and those from the meetings, incentives, conferences and exhibitions (MICE) sector who are heading to the emirate on business.
Here is a look at some of biggest projects that have been recently announced.
Theme parks
Not one, but three theme parks have been slated for Dubai, each based on a unique concept: Motiongate, which will be based on films made by DreamWorks Animation and Sony Pictures, Legoland Dubai, and Bollywood Park.
The projects, worth $2.9 billion (£1.85 billion), will be built just 37 miles away from Dubai International Airport, guaranteeing that those about to land in the emirate will be able to see the attractions, helping to whet their appetites.
Raed Al Nuaimi, chief executive of Dubai Parks and Resorts, commented: 'With Dubai's status as a leading global tourist destination continuing to grow, there exists an exciting opportunity to enhance the emirate's leisure, entertainment and retail offering.
'The project will benefit from a prime and easily accessible location, partnerships with world-renowned brands, industry-leading operators and a wide range of attractions catering to visitors of all ages, both from the Middle East and beyond.'
In addition, John Gerner, a theme park consultant and the managing director at Leisure Business Advisors, believes that giving each park its own motif is a surefire way to keep visitors interested all year round. He also feels that by investing in this type of attraction, Dubai has the potential to usurp Orlando as the king of theme parks and could become one of the globe's largest markets for tourism.
Sports
Earlier this month, Harold Mayne-Nicholls, the former head of the FIFA team that inspected potential hosts for the 2022 World Cup, described Dubai as the 'perfect location' for international sporting events.
He told the audience at the Host Cities event: 'Dubai has an open policy to receive all kind of activities related with sports. It's not only games, but also seminars, courses and other kind of activities that they promote. There are several places like Dubai, but perhaps Dubai has a better location than others, plus the fact that the weather during at least eight or nine months of the year is perfect for sports.'
Last week, between November 10th and 15th, the emirate played host to the 17th Al Habtoor Tennis Challenge. Six of the women's top 100 participated, including Belgian Alison van Uytvanck, Anna-Lena Friedsam and Carina Witthoeft of Germany, Tereza Smitkova of the Czech Republic, China's Zheng Saisai and Jana Cepelova of Slovakia.
Hani Al Khafief, international tennis fund supervisor, said that the draw for this year's event was much stronger compared to 2013, perhaps providing evidence of Dubai's growing reputation as a prime location for international sporting events.
Culture
Dubai's cultural offerings have also improved over the last few months, with galleries putting on several special events, such as the Mawaheb's celebration of the emirate's unique skyline and the Majlis commemorating its 25th anniversary.
Last week, the Department of Tourism and Commerce Marketing announced that it would be hosting a food festival next year, to showcase the diverse assortment of cuisine available in Dubai, which ranges from delicious street food to amazing five-star gourmet restaurant fare.
Laila Mohammed Suhail, chief executive officer of the Dubai Festivals and Retail Establishment, said the restaurant sector has experienced "exponential growth" in the last year, with a constant stream of international chefs choosing Dubai as the location for their next opening, demonstrating the emirate's growing presence on the world's gastronomy map.
Posted by Neil King