Dubai 'on course to become centre of Islamic business world'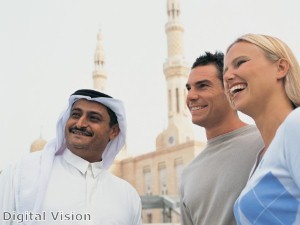 Dubai is making good progress towards becoming the central hub of the Islamic business world, according to the chief executive of the Dubai Islamic Economy Development Centre.
Sheikh Mohammed bin Rashid, vice-president of the UAE and ruler of Dubai, has tasked Abdulla Al Awar with ensuring Dubai is the focal point of the Islamic business world by the end of 2016 and the latter believes the emirate is on course to achieving this goal.
Speaking to the National, Mr Al Awar stated: 'We are on track to meet the target. The important thing is not to trade impact events for long-term quality.'
In order to meet Sheikh Mohammed's goal, the Dubai Islamic Economy Development Centre is focusing on seven key areas - Islamic finance, the halal industry, tourism, digital infrastructure, arts, knowledge and standardisation.
Mr Al Awar said good progress has been made in the first two areas in particular.
'There has been exceptional growth in Islamic financial markets … The pace of growth in this market has been faster than anywhere else in the world,' he stated.
He revealed that in early 2013 there was only $9 billion (£5.5 billion) worth of sukuk (the Islamic equivalent of bonds) in Dubai. In less than two years this has now increased to $21 billion.
Regarding halal, Mr Al Awar said it is hoped the recently-launched UAE halal stamp of approval will help the emirate develop in this area.
'As the official halal stamp of the UAE, the aim is to make it a national trademark of halal excellence and a global brand for Muslims,' he stated.
Dubai is certainly making good progress on another of the seven key areas - tourism. Numerous projects are underway to attract 20 million annual visitors to the emirate by 2020 and many of these will come from fellow Islamic nations.
Mr Al Awar was speaking to the National to mark the opening of the World Islamic Economic Forum, which is currently being held in Dubai for the first time in its ten-year history.