Dubai 'needs 500,000 new units by 2020'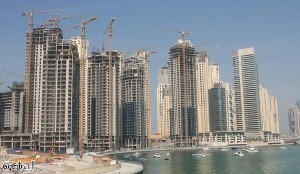 Dubai needs to develop 500,000 new property units by 2020.
Figures released by urban design consultancy Placemaking found the emirate was currently adding to its property stock at a rate of 50,000 houses each year. The study stated about 375,000 premises were brought onto the market between 2003 and 2013, with 20,000 more estimated to be completed in 2014.
However, Arabian Business reports a combination of regional immigration, a growth in population and the decision to award Dubai the opportunity to host Expo 2020 means a total of 500,000 units will be needed over the next six years. Of these, 264,000 should be classed as affordable.
Such property was defined as costing between AED 45,000 (£7,378) and AED 60,000 in rent per year. The study suggested this could be achieved by including specific zoning requirements ensuring a percentage of units in a development were dedicated to affordable housing.
The report stated businesses could also be encouraged to develop low-cost housing if the government and banks offered loans with lower rates of interest. In addition, it called for the creation of a multi-agency committee to be established to tackle the issue, much like the one set up to oversee the emirate's smart city concept. 
Nadine Bitar, the founder of Placemaking, commented: "We need at least at the beginning incentives to encourage developers not only to build the units, but also to manage their projects in a way that stays affordable."
According to the study, the current situation in Dubai is borne out of the global financial crisis, which practically wiped out the high-end property market. This led to low levels of demand and a surplus of units at the upper echelons of the scale. 
However, the issue is not said to be just confined to the emirate, with developers across the world finding they have to balance between gaining an adequate return on investment, while also meeting the demands of the market.