Dubai 'most reputable city' in Middle East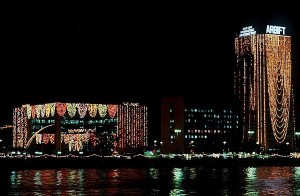 Dubai is the most reputable city in the Middle East, according to the latest City RepTrak figures.
This year's table from the Reputation Institute shows Dubai has moved up six positions from 2012's report and is, again, the only location in the region to feature in the top 50.
The list was compiled by surveying over 22,000 people from the G8 countries - the UK, Russia, Japan, Canada, France, Italy, Germany and the US - between January and February this year. Cities were then ranked based on levels of respect, admiration and trust each one had, as well as 13 other factors which were combined into three main areas - advanced economy, effective government and an appealing environment.
Currently, the emirate is hosting a four-day visit from Unesco inspectors with the possibility of making Dubai Creek a World Heritage site - which would further cement the location's global appeal.
Dubai's growing success on the table, which is based on foreign opinions, shows why the emirate is a popular destination for foreign business and tourism and shows an increasing admiration for Dubai. This is reflected in the demand and potential for property investment - such as with The First Group - which could potentially grow as Dubai rises through the list.
Fernando Prado from the Reputation Institute's Place Reputation Unit said: 'People have images of a city on their mind when they are deciding to go on holiday there, to live or work there, or to buy products originated there. Our modelling demonstrates that a city that knows how to effectively manage its reputation can attract more tourists, greater investment or a bigger influx of talent.'
Other potential factors include the beauty of the urban environment and the available entertainment - both of which Dubai has in abundance. It has plenty of tourism and amusement facilities, such as Dubai World Trade Centre and the Global Village, while it is constantly improving the natural landscape and aesthetics.