Dubai Metro to get more stations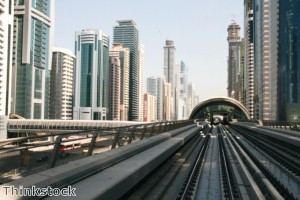 Dubai's metro network is to be expanded over the course of the next seven years.
The Roads and Transport Authority (RTA) has unveiled plans for the transport system that will see the number of stations increase to 70 by 2020, Gulf News reports.
As part of the plans, the Green Line is going to be doubled in length, while the Red Line will be extended at both ends - these plans are part of the preparations ahead of Dubai's hosting of Expo 2020.
It means people living in Dubai Festival City, Ras Al Khor, Dubai International City, Silicon Oasis and Dubai Academic City will eventually be able to use the metro.
Abullah Yousuf Al Ali, acting chief executive officer of RTA's Rail Agency, told the news provider the final designs are currently being ironed out, with work expected to get underway very shortly.
'The Green line will extend by 20.6 km, 12 km of which will be elevated and 8.6 km will be underground. The extended section will be supported by 11 new stations, in addition to current 20,' he stated.
Once the expansion project has been completed, Dubai Metro will be 110 km in length and there will be a connection near to the Al Maktoum International Airport.
Mr Al Ali has previously waxed lyrical about the positive impact of Dubai Metro, saying it has brought about 'a revolution' in public sector transport in the emirate. He added it has been central in challenges(challenging) people's perceptions of public transport, which is reflected by the fact its usage has more than doubled between 2006 and 2013.
Over the course of the next 20 years, RTA is targeting a one per cent increase in public transport usage every year, as they seek to encourage people to take advantage of more environmentally-friendly transport.