Dubai marks 'best year in a decade' for property transactions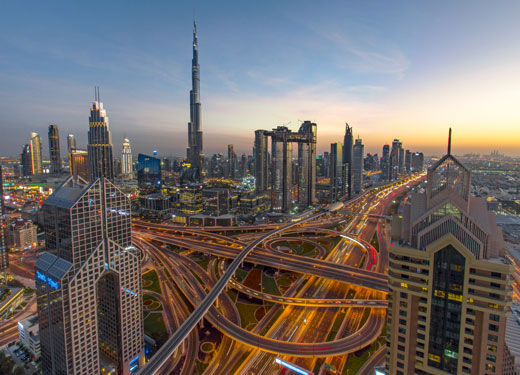 Property transactions rose 20% year-on-year in 2019, with 2020 shaping as another bumper year for the real estate sector thanks to Expo 2020 Dubai and wide-ranging government initiatives
Dubai's real estate market reported its best year in terms of sales volumes in more than a decade in 2019, with the total number of transactions rising 20% year on year.
Almost 42,000 properties changed hands, up from 34,961 in 2018, according to data provided by Dubai Land Department (DLD) and issued by Dubai-based real estate analyst Data Finder.
Investors flocked to Business Bay, the fast-growing central business district that is home to three of The First Group's hotel properties currently under development: the 492-key The One Hotel at Business Bay (operating as Millennium Place Business Bay); the 440-key Sky Bay Hotel Business Bay (operating as Ramada Plaza Business Bay); and the 330-key Dolphin Tower at Business Bay.
The area recorded 3,146 sales in 2019, making it Dubai's hottest real estate market.
Downtown Dubai ranked second overall with 2,816 property transactions, followed by Dubai Creek Harbour (2,492), Dubai Hills Estate (2,373) and Dubai South (2,048).
Off-plan sales accounted for more than 50% of all transactions (23,643) recorded in 2019. Dubai Creek Harbour topped the list with 2,423 sales, followed by Downtown Dubai (2,088), Dubai Hills Estate (1,949), Dubai South (1,942) and Business Bay (1,811).
In regard to the secondary market, International City (1,342 transactions) just edged Business Bay (1,335) in terms of total sales. Dubai Marina (1,280) ranked third, followed by Jumeirah Village Circle (1,108) and Jumeirah Lakes Towers (851).
2019 also marked a high point in terms of property completions, with 45,000 units handed over to investors – the largest number in five years.
With almost 14,000 sales transactions (33% of the total) registered in the three months to November, the overall trend bodes well for this year, particularly as excitement and interest builds towards Expo 2020 Dubai's official opening in October.
"Going into 2020 and leading up to the Expo, we are expecting transaction levels to increase and prices to stabilise in certain areas," says Lynnette Abad, director of data and research at Property Finder. "We have already started to see certain market dynamics shift as a direct effect from Expo and these trends will most likely continue throughout the year."
Indeed, investor confidence ahead of Expo 2020 is rising fast on the back of higher forecast GDP and significant public investments, according to industry analyst JLL.
In its UAE Real Estate Market 2019 report, JLL cited an Oxford Economics forecast that predicts UAE GDP growth to rise from 1.9% in 2019 to 2.2% in 2020.
"Pro-growth government initiatives, rising investment ahead of Expo 2020 and expansionary fiscal stances by the federal and local governments should further improve the broad economic backdrop," JLL states. "Both Dubai and Abu Dhabi, which comprise the lion's share of UAE GDP, are embarking on stimulus plans to facilitate doing business, attract FDI, retain human capital, and improve the overall business environment."
JLL predicts the combination of large-scale projects, new visa rules and Expo 2020 will also "boost tourist arrivals, helping Dubai to maintain its status as a major global tourist and FDI Destination".
Around 25 million visitors are expected to visit Dubai for Expo 2020, with international attendees travelling from more than 190 countries worldwide.
Investors in Dubai also stand to benefit from the fabled 'Expo effect', a term coined by Belgian academic Patrick De Groote in 2005, to describe the double-digit rise in property values enjoyed by previous expo host cities over the past 30 years.
Seville, in southern Spain, reported a 23% rise in property prices in the five years before it hosted the world expo in 1992, and 15% in the five years following the event.
Portuguese capital Lisbon reported an 18% increase in the three years prior to its expo in 1998 and 60% in the five years after, while Hannover in Germany, which hosted the 2000 event, saw prices rise 12% before the event and 40% after.
"The government is committed to long-term growth for Dubai," comments Mireille Azzam Vidjen, head of Strategic Consulting, JLL MENA, in an interview published on the analyst's website.
"[The city's] well-regarded business environment is increasingly complemented by top-class healthcare and education facilities and lifestyle venues, which in turn are helping to attract skilled workers and create a deep talent pool for today's corporates to draw on.
"Expo plays into that. There's a huge push on the environment along with technology, cyber-security and connectivity to cement Dubai's place as a leading global city." she adds.
Najeeb Mohammed Al-Ali, executive director of Expo 2020 Dubai Bureau, predicts Expo 2020 will "have an impact on the future of the UAE for years to come".
"By stimulating travel and tourism, supporting economic diversification and leaving a sustainable economic legacy, it will cement the UAE's position as the leading destination for business, leisure and investment in the region and beyond," he adds.
2019 DUBAI REAL ESTATE INDUSTRY PERFORMANCE 
Total transactions: 41,988 (20% YoY)
Top investment locations by total sales volumes
Business Bay

3,146 transactions
Downtown Dubai

2,816
Dubai Creek Harbour

2,492
Dubai Hills Estate

2,373
Dubai South

2,048
Top investment locations (off-plan)
Dubai Creek Harbour

2,423
Downtown Dubai

2,088
Dubai Hills Estate

1,949
Dubai South

1,942
Business Bay

1,811
Top investment locations (secondary)
International City

1,342
Business Bay

1,335
Dubai Marina

1,280
Jumeirah Village Circle

1,108
Jumeirah Lakes Towers

851