Dubai Marina is 'city's most desirable location'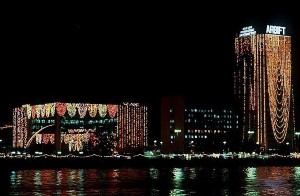 The marina is the most desirable location in Dubai for property.
This is according to the quarterly report by propertyfinder.ae, which found the area was the most searched for region in Q4.
For the fourth year running, Dubai Marina has been the top location and it is easy to see why.
Propertyfinder.ae's marketing director Bharat Kumar told the National the findings were 'a barometer of the market' and provide an 'indication from a consumer point of view, of what people are interested in'.
Due to its waterfront aesthetics and general atmosphere, the area is popular with residents and tourists alike. As such, new premises will be difficult to obtain in this area, so emerging options, such as the Dubai Marina hotel, can prove wise investments into the most in-demand parts of the emirate.
The report said: 'With its unspoiled private marina, waterfront promenades, properties that capture sweeping sea views and small-town charm, Dubai Marina makes the ideal possible: a vacation-like lifestyle with easy access to business and culture.'
It is also a popular region for tourists due to many reasons, notably its well connected infrastructure. In addition to current train and ferry services, the upcoming tramway will start from this location when it opens next year. This will add even more connections and allow visitors to move around from the central location.
Dubai Marina was followed by Downtown Dubai - a popular region for shopping and nightlife - in second position and Palm Jumeirah in third place, both retaining their spots from the last quarter.
In total, around 18.67 per cent of all searches were for the waterfront location, while 10.34 per cent were for the downtown area and 10.04 per cent for Palm Jumeirah. While the competition between the latter two is close, there is a clear lead for the number one position.
Similar rankings were also reported for rental property, with Dubai Marina emerging on top again with 18.41 per cent of traffic.