Dubai leads the way in property price growth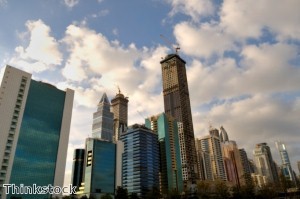 Dubai had the fastest growing property market on the planet in the past 12 months, a new study by Knight Frank has shown.
The Global House Price Index is used to rank countries on the rate in which real estate values have risen over varying periods of time.
Dubai topped the table, with prices increasing by 21.7 per cent between the second quarter of 2012 and the corresponding period this year.
In addition to this, the study highlighted a 14.7 per cent rise on a six-monthly basis - a figure that no other territory across the globe could match.
The emirate also recorded a five per cent upturn in the second quarter of 2013 when compared with the first three months of the year. Only a handful of countries/regions could better this, including the US, Taiwan, Estonia and Lithuania.
Dubai's economy has performed strongly in the past 12 months and this has certainly been reflected in the housing market.
The Knight Frank report stated: 'Dubai leads the annual rankings, recording price growth of 21.7 per cent in the year to the end of June. The emirate's housing market has gained momentum since late 2012, while its prime market led the way, mainstream prices are now following suit.'
This is certainly not the first study to suggest Dubai's real estate sector is on an upward curve.
Inevitably, some investors are concerned about property bubbles forming, but bosses at Standard Chartered said last week that the sheikhdom is in a far better position to deal with rapidly rising prices than it was in 2008.
The bank claimed that laws introduced by the Dubai government have helped to regulate the market far more closely and there are now far greater levels of control over off-plan sales.
Investors from all over the world are battling it out for new assets in the most popular parts of town and with developers continuing to add new units across the city, there has never been a better time for traders to enhance their Middle Eastern portfolios.