Dubai launches 'Destination Innovation' multimedia hub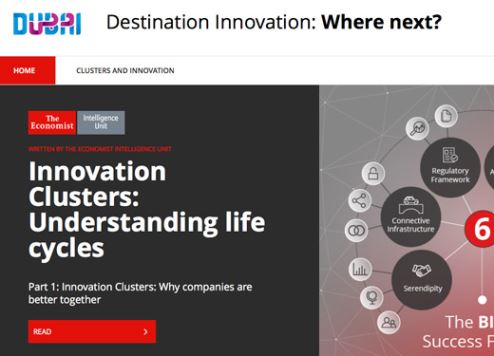 Dubai Tourism has commissioned "Destination Innovation: Where Next?" - a dynamic multimedia hub featuring content to help multinational companies meet the opportunities and challenges of running a global business.
The hub, launched by The Economist Intelligence Unit (EIU) and supported by Dubai Chamber, is part of a move to enhance the sharing of best practices and learning from around the world with a view to providing business leaders with in-depth research, case studies and insightful discussion.
The initiative also helps showcase Dubai's status as a leading business destination, supported by the government's investment in related infrastructure and events.
Located at destinationinnovation.economist.com, the content-rich site features short documentaries, infographics and in-depth features and analysis.
Available for the next 12 months, content will cover the themes of innovation, geographical expansion, market access strategies and alternative energy and will feature the views of business executives and experts, along with the EIU's unrivalled insights.
"Businesses need to evolve how they operate to adapt and flourish in a highly fluid, dynamic and increasingly more competitive marketplace," said H.E Helal Saeed Almarri, director general, Dubai Tourism.
"Through this strategic initiative, and by drawing upon the vast experience, international reach and knowledge of The Economist, we want to drive forward the debate and create dialogue, whilst also being able to share the learnings that have allowed Dubai to get to where it is today."
He said the initiative was in line with the vision of His Highness Sheikh Mohammed Bin Rashid Al Maktoum, UAE Vice President and Prime Minster, Ruler of Dubai, to pursue economic diversification.
Monica Woodley, EIU's EMEA's editorial director for Thought Leadership, said the hub was designed to "serve the needs and interests of senior decision-makers at multinational companies", acting as "a place they can turn to for fresh ideas, useful case studies and expert insight on the issues most important to them".
A number of features went live for the site's launch showcasing the theme of 'Innovation Clusters: Understanding Life Cycles'. This briefing document identifies six success factors common to innovation clusters across five countries: the UK, India, USA, Estonia and Singapore.