Dubai launches Creek extension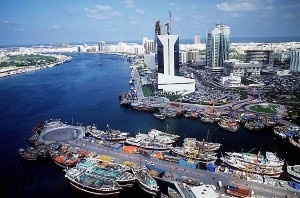 Shaikh Mohammad Bin Rashid has launched an extension project for Dubai Creek.
The three km development - overseen by the Roads and Transport Authority (RTA) - will see a new water passage running between Business Bay and Jumeirah Beach. Work will commence with a 16-lane bridge on Shaikh Zayed Road - which the new canal will cut through.
According to Gulf News, further expansion of the canal will see it span from Jumeirah all the way to Al Shindagha - effectively making it a large man-made island in as little as three years' time.
Four pedestrian bridges are also being constructed as part of the project, including one that will connect a four-story shopping mall that will be built within the area. The water will be between 80 and 120 metres in width.
The extension, also known as Dubai Canal, will take into account where it passes. The Business Bay area will have eight metre high bridges for yachts to pass underneath it, while beaches will also feature on both sides for six km.
In addition to shopping areas, it will also incorporate 450 restaurants and is predicted to help draw in 20 million visitors.
Chairman of the board and chief executive of RTA Mattar Al Tayer said: 'Served by pedestrian bridges, including a shopping bridge as well as four marine stations, the canal will see easy movement of people across both sides.
'It also covers landscaping works on both sides of the canal such as greens, benches, relaxation areas and a host of diverse tourist projects and facilities.'
The development looks to add to Dubai's growing appeal. Some of the more popular coastal locations in the city, such as Dubai Marina, are already hot spots for luxury commercial and residential properties. Waterfront property is a large focus in the city - which has recently announced construction of the world's largest lagoon - and the conversion into an artificial island looks to follow this trend. The creek area, however, will focus on business and entertainment over tourism and accommodation.
Dubai Canal will also offer additional productivity in the form of docking stations along its course.