Dubai launches AED 1.1bn Silicon Park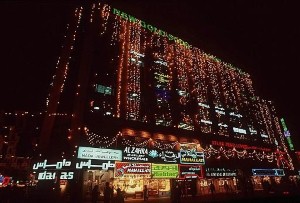 Dubai's municipality government has launched its new Silicon Park development.
The AED 1.1 billion (£180 million) project will be the first smart city initiative to be built at the emirate's Silicon Oasis and is expected to span 150,000 sq m. Work has already begun on the scheme and officials claim construction will be completed by the final quarter of 2017.
Comprising of 97,000 sq m of office space and 20,000 sq m of residential area, the plans include a 115 room hotel and a collection of restaurants, cafes and fitness centres. Prayer rooms, a shopping centre and underground parking will also be available.
Sheikh Ahmed Bin Saeed Al Maktoum, chairman of Dubai Silicon Oasis Authority (DSO), commented: "This project is in line with the vision of His Highness Sheikh Mohammed Bin Rashid Al Maktoum, Vice-President and Prime Minister of the UAE and Ruler of Dubai to transform Dubai into the smartest city in the world over the course of the next three years. We are confident that this project will succeed in offering a modern lifestyle for residents, workers and visitors."
The project will also consist of a control centre that collates and analyses data gathered through the various sensor devices located throughout the site. Officials state this information will in turn be used to ensure the facility runs as efficiently as possible. 
A number of environmentally-friendly features will be implemented at the development, including green roofs (comprising of plants and trees), the use of renewable energy sources and motion sensor light systems. In addition, conventional vehicles will not be present at the project, as electric modes of transport are set to be the primary way of getting around the site. 
Visitors to Silicon Park will be able to find their way thanks to the use of augmented reality, which converts real spaces to virtually-generated maps. Additionally, WiFi will be available throughout the area.
The enhanced level of technology will not only benefit tourists, as residential units are planned to be equipped with the latest remote-control systems that regulate things such as lighting, air conditioning, even the windows and curtains.