Dubai keen to make tourism 'key driver of economy'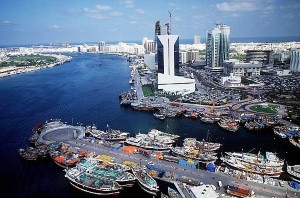 Dubai is often seen as a playground for the wealthy, but the government is now looking beyond this and is keen to make tourism the key driver for the emirate's economy and boost the number of visitors heading to its shores.
At a series of presentations held earlier this month, speakers touched upon the emirate's ambitious plans for the coming years, with much of the focus being geared towards the World Expo 2020, the Times of India reports.
Hoor Al Khaja, from the Department of Tourism and Commerce Marketing (DTCM), commented: 'The government has brought in new legislations to ease setting up of holiday homes and facilitate e-permit and ticketing.
'It has also incentivised setting up of mid-market hotels. If they become operational by 2016 or 2017, the government will waive off its ten per cent municipality fee for two to three years.'
Captain Salem Bin Ali from Dubai Immigration believes a new multiple-entry cruise visa will also boost the emerging cruise tourism in the area, as the permit will allow visitors to arrive at Dubai and travel elsewhere in the UAE and neighbouring countries before returning to their original destination for one price.
Back in 2001, around 6,900 cruise tourists entered Dubai every year compared to 381,000 in 2014, demonstrating how much the industry has grown in a relatively short space of time. The emirate intends to attract one million cruise passengers by 2020, which is testament to the efforts it is making to boost numbers across all tourism sectors.
Speaking to journalists, Issam Kazim, chief executive of the DTCM, said: 'There's so much more to Dubai than just shopping. A traveller here can just as well experience sleeping in the desert under the night sky, marvel at the rich aquatic life and get an adrenaline rush by taking part in some water sports.'
He added that the residents of Dubai and social media are both playing big roles in the promotions launched by the DTCM. One particular campaign encouraged visitors and those that live in the emirate to post their favourite snaps with the hashtag '#MyDubai' to create a dynamic and intimate portrait of the city.