Dubai is a place of 'firsts'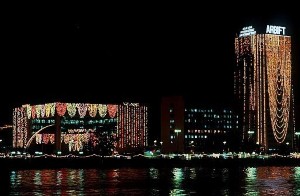 The Guinness Book of World Records opened an office in Dubai last year, which is unsurprising given how many achievements the emirate has under its belt, including some of the world's 'first', 'best' and 'most expensive' attractions.
These unique charms are a massive draw for tourists looking to see some world record-holding landmarks.
Here are just a few that Dubai has to offer.
Palm Jumeirah
The Palm Jumeirah is a man-made island that has been constructed out of more than three billion cubic feet of sand shaped to resemble a palm tree. The 'fronds' of the island are dotted with private villas and hotels, offering tourists an unforgettable experience and unrivalled views of the emirate.
The biggest Turkish hammam in the Middle East
The Jumeirah Zabeel Saray is home to the biggest Turkish hammam in the Middle East, equipped with 42 treatment rooms and eight hydrotherapy rooms. Those looking for a relaxing trip to the spa will be able to enjoy a massage in record-breaking surroundings on during their trip to Dubai.
Desert skiing
Snow is something that you probably wouldn't associate with a desert, but the emirate has combined the two to create Ski Dubai, a winter wonderland situated inside the Mall of the Emirates. The attraction features five slopes, one of which is 1,132 ft long with a fall of 197 ft, a chalet-style cafe and real penguins.
The world's biggest gold ring
Enormous attractions, such as the world's largest toilet and ball of yarn in the US, are always popular among tourists, so those heading to Dubai won't be disappointed when they discover Najmat Taiba. This is globe's biggest gold ring, which weighs around 141 lbs and is covered in about 11 lbs of precious stones - worth around $3 million (£1.9 million).
The 'seven-star' hotel
The Burj Al Arab, described as a seven-star hotel by its owners, is one of the world's most unique hotels, offering guests a butler service and a Rolls-Royce car service. There's also a helipad available for anyone looking to take to the skies and gold-plated iPads for visitors to use during their stay.