Dubai is a 'city of opportunity'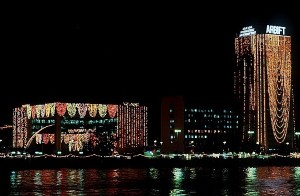 Dubai has made its way on to PricewaterhouseCoopers' (PwC) list of Cities of Opportunity, ranking 16th out of 30. The emirate was the only Middle-Eastern city to be included in the newly published survey.
The 'Cities of Opportunity 6' report ranks 30 cities from across the world in terms of capitals of finance, commerce and culture. It analyses the development of these places through their performance and explains what makes these cities function well.
Dubai came in fifth in regards to affordability - a category that measures the cost of living, purchasing power and corporate tax rates. The emirate only came behind San Francisco, Los Angeles, Johannesburg and Toronto.
The emirate also ranked eighth as an urban gateway, usurping Los Angeles in the top ten. It achieved its high rating because of the efficiency of is airport connections to central businesses districts, for which it achieved first place.
According to the report, Dubai ranked fifth in terms of cost-effectiveness as it offers better value than most developed or emerging cities. The city was rated first for its corporate tax-rate, tenth for cost of living and seventeenth for the cost of its business occupancy.
Hazem Galal, Middle East partner and global leader of PwC's Cities and Local Government team, commented: "Cities of Opportunities 6 highlights the remarkable progress Dubai has seen over the last few years, in its efforts to position itself as a global gateway and an easy place to do business.
"The combination of its low corporate tax rates, the proximity of its airports to business, its cost of living and quality of life mean that Dubai continues its ascent into the world's top cities."
The report did highlight some improvements the city could invest in, as it ranked last for sustainability and it natural environment.
In reference to this, Gus Schellekens, PwC's Middle East Sustainability leader, said: Dubai obviously has to contend with an extreme climate which creates a heavy reliance on air conditioning and desalinated water. However, since 2006 when sustainability was an omission in many government visions, Dubai has taken great steps to make it a central part of its policy and planning."