Dubai Internet City set for investment boost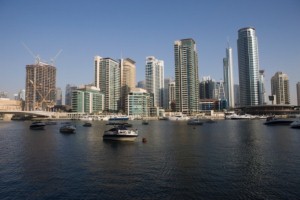 Dubai aims to attract business innovators from across the world by investing in the emirate's internet and media zones.
Ambitious new plans in this area have been revealed by his Highness Sheikh Mohammad Bin Rashid Al Maktoum, vice-president and prime minister of the UAE and ruler of Dubai. Speaking last week, he said a total of AED 4.5 billion (£760 million) is to be invested in a number of projects over the coming years, some of which will be located at the Dubai Internet City information technology park.
The schemes will include ten million sq ft of innovation complexes, smart buildings and technology laboratories. It is hoped the new developments will attract leading business talent from within the UAE and other nations.
Sheikh Mohammad stated: 'Our innovation facilities will soon open their doors to every talented pioneers, whether they are from the UAE, from the Arab world, or any other nation around the globe. We will connect them with opportunity in the smartest innovation environment in the world.'
According to Gulf News, it is hoped the investment in innovation will increase the number of Dubai-based businesses in the knowledge, technology, education, development and research industries to 10,000 and take the number of people employed in these areas up to 100,000.
Sheikh Mohammad was speaking on Monday (October 27th) at a ceremony that celebrated the 15th anniversary of Dubai Internet City.
He said the site has helped to turn the emirate into a 'knowledge economy', adding 'we have kept pace with great changes in technology. Now the time has come for Internet City to become a creator of change'.
Sheikh Mohammad said the investment programme aims to make Dubai the innovation capital for the two billion people in the wider region surrounding the UAE.
The emirate is also widely regarded as the Middle East's prime destination for business travel and these plans should only enhance that reputation further. This is good news for hotel investors, as people visiting Dubai for work already account for a sizable number of total visitors.