Dubai International to handle 100 million passengers by 2020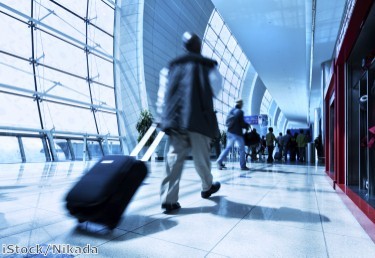 Dubai International Airport (DXB) is gearing up to handle 100 million passengers by 2020, Dubai Airports chief executive Paul Griffiths has said.
And if you factor in the emirate's newest airport, Al Maktoum International – Dubai World Central (DWC), the number of international air passengers travelling through Dubai will reach 126 million by the end of the decade.
Griffiths said Dubai Airports had planned a series of developments to ensure the two airports can accommodate this growth, rather than allow rival airports to snap it up.
"If we cannot continue to supply the capacity required for growth, then this growth [is] not going to stop, [it will] find another hub to fly over," he told delegates at an aviation industry conference in Dubai last week.
Contenders poised to soak up excess growth include Doha's Hamad International Airport, Abu Dhabi's upcoming Midfield Terminal and Istanbul's new airport, which is slated to open in 2017. However, Dubai Airports is confident its two world-class facilities can keep pace.
When DWC is completed in the mid- to late-2020s it will have the capacity to handle more than 200 million passengers annually, staking its claim as the world's biggest airport.
It will eventually become the new hub for flag carrier Emirates, which is on track to carry more than 70 million passengers by 2020.
Emirates president and CEO Tim Clark said the airline would move to DWC by 2025 when the new mega hub is able to accommodate the airline's massive growth plans.
Preparations for the relocation will begin as early as next year, Khalifa Zaffin, executive chairman of Dubai Aviation City Corporation, revealed last week.
In the meantime, Dubai Airports is devising ways to maximise its assets at DXB, which in August handled 7.2 million passengers, up 9.5 percent year-on-year.
The airport is on target to reach the 79-million-passenger mark by the end of 2015, by which time the new Concourse D will be completed, taking DXB's capacity to 90 million.
"We [have now] got to add [capacity for] another 10 million passengers," said Griffiths.
Initiatives include rolling out advanced technology to improve passenger turnover while studies are underway to reduce the take-off time between A380 aircraft, with Emirates operating 66 of these superjumbos from DXB.
"We are running trials to selectively reduce the separation for the A380 down from five miles to three miles in certain combinations under certain conditions," said Griffiths.
"That clearly will have a positive impact on capacity if we can prove that this practice works in complete safety."
Griffiths said moving low-cost carrier flydubai to DWC would also free up capacity at Dubai International. The airline started operating 70 flights per week from the new airport this month.