Dubai International passenger traffic remains above 5m mark once again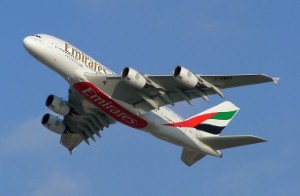 The popularity of travelling to Dubai has been underlined by a new report showing the continued high level of passenger traffic recorded by Dubai International Airport.
Official data released by Dubai Airports has indicated that passenger traffic at Dubai International remained above the five million mark for the 19th straight month in July 2014, maintaining its growth trend for the year to date.
Although passenger numbers slipped 2.9 per cent to 5.16 million, this was largely because traffic levels were impacted by a continuing runway refurbishment programme that began in May and carried over into the first part of the month, reducing capacity to a single runway.
Both runways were successfully reopened on July 21st, in time to accommodate the holiday rush during the final week, where the airport experienced some its busiest days on record.
For the year to date, passenger numbers rose to just under 40 million, up 4.9 per cent on last year. Eastern Europe was the fastest growing region during July, with passenger numbers from this area rising by 17.6 per cent, followed by North America (8.8 per cent), South America (4.5 per cent) and western Europe (3.9 per cent).
The report also showed that 25,081 aircraft movements were handled at Dubai International during the month. This was down by 11.9 per cent on July 2013, reflecting the fact that locally-based airline Emirates has been introducing larger aircraft such as the Airbus A380.
Paul Griffiths, chief executive officer of Dubai Airports, said: 'Looking forward, with two newly upgraded runways which are able to accommodate even more aircraft, the airport is well placed to resume the growth we saw in the first four months of the year.'
Dubai International Airport was opened in 1960, with passenger numbers growing 15 per cent on average every year since then. It currently serves the needs of 66 million travellers annually, a figure that is expected to rise to nearly 100 million by the end of the decade.