Dubai International 'can cope with rising passenger numbers'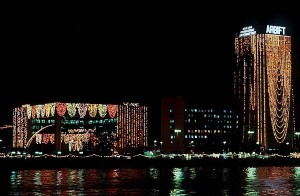 Dubai International Airport is more than capable of coping with the increasing passenger numbers descending on it.
Gulf News has told how the number of people travelling to the emirate is on the up, with recent figures from Dubai Airports showing 60.3 million individuals arrived, departed and transited through Dubai International between January and November last year - some way ahead of the 53.3 million who did so in the same period in 2012.
This 15.3 per cent increase in passenger numbers is some way ahead of the forecast of 7.2 per cent that was declared in Dubai Airports' Strategic Plan 2020 back in 2011.
Despite this rapid hike in the number of people travelling to and from Dubai in 2013, the airport is standing up to the test well and bosses believe it will be some time before it is unable to cope with rising volumes.
Will Horton, senior analyst at CAPA - Centre for Aviation, explained many other cities around the world are home to airports that are bursting at the seams, but Dubai International is still managing easily.
What's more, the opening of the new Al Maktoum International in Dubai has upped the emirate's capacity and given airlines the potential to move between the two.
"It is a luxury to have an alternative airport relatively at your disposal since Al Maktoum was planned with foresight," Mr Horton stated.
Dubai International opened Concourse A at the start of last year and this resulted in its total capacity hitting 75 million. By 2018, it will be in a position to deal with 90 million passengers, which is good news as traffic is also set to continue to rise.
In particular, the markets of eastern Europe and Australasia are anticipated to provide the greatest amount of growth at Dubai airports in the coming years, with these regions recording growth of 56.5 and 33.4 per cent respectively in November 2013.