Dubai International Airport premieres free movie experience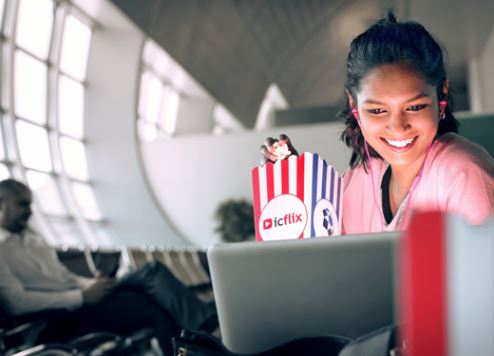 Travellers flying from Dubai International (DXB) are now able to enjoy free movies and TV shows before their flights, thanks to a partnership between operator Dubai Airports and regional content provider ICFLIX.
The initiative combines DXB's free high-speed Wi-Fi experience, 'Wow-Fi', with ICFLIX's award-winning video-on-demand service, allowing passengers to stream the latest Hollywood, Bollywood and Jazwood (Arabic) content to their smartphones and laptops.  
This is the latest in a series of unique bespoke concepts to be rolled out by Dubai Airports as the world's busiest international airport strives to make DXB a destination in its own right.
In recent months the operator has introduced Wow-Fi, artDXB, Early Bird discounts of up to 25 percent, the first Jones the Grocer café in an airport and the brand new 'sleep 'n fly', sleep lounge, with several other major projects in the pipeline.
"Dubai Airports is on a mission to engage more directly with our customers and transform the airport experience for millions of travellers each month," explained Eugene Barry, executive vice president of Dubai Airports' Commercial and Communications Group.
"We intend to lead the practical application of available digital tools to exceed customer expectations, across multiple points of their journey at our airports, and including demands for more variety within the airport experience. Our continued investment in a superior Wi-Fi product (Wow-Fi) has ensured that our customers are connected with a free and fast service, and now we aim to enrich that platform with managed content and relevant messaging." Barry added: "Thanks to our partnership with ICFLIX, travellers at DXB can now enjoy a wide range of streamed entertainment before and between flights, and this is a service which is completely free of charge to users. We are delighted with this new addition to our consumer strategy and look forward to evaluating its impact."
ICFLIX founder and CEO Carlos Tibi said its goal was to "deliver the best online entertainment value, selection and experience to a worldwide subscriber base by providing Jazwood (Arabic), Bollywood and Hollywood content in one place".
"Today we just expanded that potential customer base by 90 million people so we are absolutely delighted with the deal and excited by the opportunity it provides," he added.
Content on ICFLIX is available in three languages: Arabic, English and French. The video-on-demand service is complimentary to all DXB passengers for an initial trial period of two months. Following this trial, Dubai Airports and ICFLIX will assess customer feedback and options for future services.