Dubai: How it stands out as an investment opportunity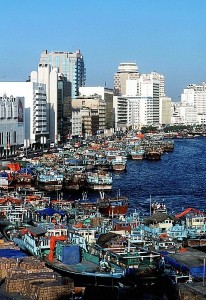 Not a day goes by without a report or article being published that sings Dubai's praises. Some comment on its strengthening economy, others on its booming tourism industry, but all agree that the emirate stands out as a sound investment opportunity.
Earlier this week, Dubai's government revealed a balanced budget for 2015, reflecting the strides it has made since the global financial crash of 2008. The emirate has enjoyed a rise to prominence in recent years, seeing double-digit growth in real estate prices since 2012, as well as drastically boosted trade and tourism revenues.
There are no signs of a slowdown either, with the economy set to enjoy a massive uplift as the World Expo 2020 draws closer. Estimates suggest that around $7 billion (£4.6 billion) will be invested in projects to strengthen the emirate's infrastructure, and the event itself will generate $24 billion for the Middle East and North Africa (MENA) region.
Mutasem Dajani, UAE regional managing partner at Deloitte, commented: "The fact that Dubai is itself strategically located within four hours of a third of the world's population [means] this Expo has potential for wider impact leading up to the event and afterwards for years to come."
Here are a few other factors that make the emirate a unique investment opportunity.
Infrastructure
Dubai International Airport (DXB) has recently overtaken London Heathrow as the world's busiest airport, according to figures released by the Airports Council International. In the first 11 months of 2014, 69 million passengers passed through DXB compared to the 67.8 million handled by its British counterpart. Paul Griffiths, chief executive of Dubai Aiports, its confident that the total figure for last year will be in excess of 70 million.
The emirate is also home to Jebel Ali Port, MENA's largest port, which is set to be expanded during 2015 to allow it to handle 19 million units of cargo. It has recently been named as the world's most productive shipping port by the US Journal of Commerce, beating 483 other ports world wide.
There are also numerous Free Trade Zones in Dubai that provide industry-specific market infrastructure and tax incentives for several different sectors, such as financial services and commodities, healthcare, media and technology, and education. These areas provide occupiers with ready-made offices, factories and warehouses, as well as easy start-up and licensing policies.
Trade and investment
It is expected that Dubai will have closed 2014 with an additional ten to 15 per cent in growth of foreign direct investment (FDI) compared to the previous year. According to a report from the government, this boost will be split across different sectors, including tourism, services and logistics. Predictions for the total value of FDI for last year are around $14.4 billion, up 20 per cent from $12 billion in 2013.
In the report, Fahad Al Gergawi, chief executive of Dubai FDI, the foreign investment office in the emirate's Department of Economic Development, said: "The focus on growth [is] coming with mega projects that have been announced by the government."
One of the biggest draws for the emirate as an investment opportunity is its laws surrounding taxation, as Dubai does not impose any personal income tax, capital gains tax or withholding tax. This means people can enjoy a more comfortable way of life compared to other places in the world.
Tourism
The tourism industry in Dubai is booming and is set to grow even further during 2015, as well as in the run up to the World Expo. The emirate has set itself a target of attracting 20 million visitors every year by 2020 and to achieve this has launched a host of projects that focus on encouraging travellers from different sectors and countries to make their way to Dubai.
In the first half of 2014, 5.8 million people stayed in the emirate's hotels, marking the busiest six month period it has ever experienced. As more tourists pour into Dubai, demand for quality accommodation will continue to increase, meaning that this could be the perfect industry to invest in during 2015.
Posted by Bob Brunskill