Dubai hotels 'experience 4.2% increase in profits for 2014'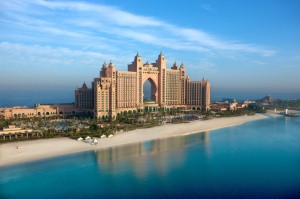 Last year, Dubai's hotels enjoyed strong occupancy and robust room rates, according to new research.
The Middle East and North Africa Chain Hotels Market Review from Hotstats reveals that the emirate's four and five-star hotels maintained a strong performance in the last month of 2014, with revenue per available room increasing by 2.2 per cent.
It explains that the growth in room revenue was driven by a rise in the average room rate, which climbed 0.4 per cent, coupled with a 1.4 per cent increase in occupancy to 82.2 per cent.
Higher food and beverage and conferencing revenues boosted total revenue per available room by 3.5 per cent, supporting profitability and pushing up gross operating profit per available room by four per cent.
"Dubai hotels closed 2014 with strong occupancy and average room rates in December, which saw overall performance levels exceed those achieved in 2013," said Christopher Hewett, senior consultant at TRI Consulting in the emirate.
"Dubai continues to steam ahead in attracting an increasing number of visitors as seen with Dubai International Airport toppling London Heathrow for the top spot in international passenger traffic with 70.4 million passengers passing through the airport in 2014."
The data from Hotstats allows hotels to compare their performance against their competitors, providing them with over 100 indicators that cover more than 70 areas, including hotel revenue, cost, profit and statistics that give a deeper insight into the industry than other tools.
According to figures from Statista, Dubai welcomed 11.95 million tourists during 2014, up from 11.12 million in 2013, indicating that the emirate is well on its way to achieving its goal of attracting 20 million visitors every year by 2020.