Dubai hotels expecting strong demand during Eid Al Fitr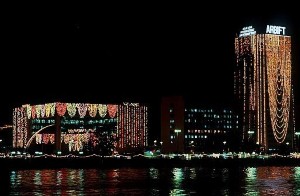 Hotel operators in Dubai are anticipating a significant increase in guest numbers around the time of the Eid Al Fitr religious holiday.
Eid Al Fitr is a highly significant occasion for Muslims because it marks the end of Ramadan, the Islamic holy month of fasting during daylight hours. It brings together families and friends, many of whom travel to foreign destinations to enjoy the celebrations with loved ones.
Due to start around July 28th this year, the Eid period is likely to see hotels reaching occupancy levels of between 80 per cent and 95 per cent in Dubai, reports Gulf News.
Muslims mark the occasion by enjoying communal meals, meaning hotels are likely to see a significant increase in earnings from their food and beverage (F&B) offerings.
People from Gulf Cooperation Council countries such as Saudi Arabia, Bahrain, Oman and Qatar are likely to account for the majority of visitors to Dubai during Eid, followed by travellers from the UK and Germany.
According to a hotel industry report released by STR Global earlier this month, the UAE was one of the top-performing countries in the Middle East during the first half of 2014.