Dubai hotels enjoy occupancy rate rise in December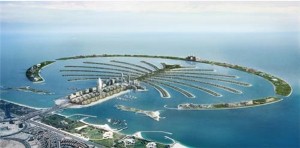 Hotels in Dubai are performing strongly, with the latest figures showing they achieved an occupancy rate of 80 per cent in December.
Data from STR Global showed this was 1.7 per cent up on the same month a year earlier and indicated hotels are finding it easier to fill their rooms, whether this is by appealing to tourists or business travellers.
The average daily rate was up by 7.7 per cent, resulting in revenue per available room increasing by 9.5 per cent, reported Gulf News.
Yousuf Wahbeh, head of transaction real estate for the region at Ernst and Young, said: 'With the peak season having started, the region is setting up for a successful incline in hotel occupancy.
'We expect this to continue throughout the upcoming months, especially in the UAE, with the onset of the Dubai Shopping Festival.'
Elizabeth Winkle, managing director at STR Global, added that the figures completed what was a fantastic year for Dubai. With December in line with previous months, it marked the continuation of a period of strong growth for hotels in the city.
Some 2,950 hotel rooms have been added to the supply in Dubai in 2013 alone, showing there are now more options for people who wish to stay in the emirate. Achieving higher occupancy rates in a larger market is also sure to please those in the trade.
'Dubai's hospitality market has rapidly absorbed this influx or new supply and continues to perform exceptionally well,' Mr Waheh stated.
This could potentially attract new investors looking to put their money into a hotel project, with Dubai clearly a lucrative venture. High occupancy rates and booming revenue figures could lead to further developments in the coming months and years.
In November, hotel occupancy in Dubai was said to have reached 85.9 per cent, with an average room rate increase of 5.6 per cent.