Dubai hoteliers targeting 35.5m occupied room nights in 2019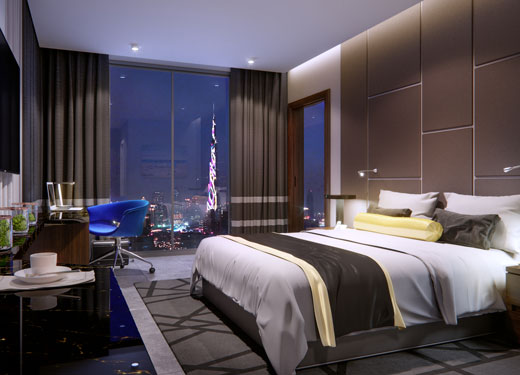 The city's hotel sector remains on track to reach the milestone this year following a strong end to 2018
Dubai's hotel sector remains on track to attract 35.5 million overnight guests in 2019, as the emirate ramps up its preparations to host Expo 2020 next year.
According to the latest data from Dubai Tourism, Dubai recorded 27.33 million occupied room nights in the period from January to November 2018, up from 26.53 million a year earlier.
December is traditionally one of the busiest periods for Dubai's hotel operators, with occupancy rates typically exceeding 85%. As per the latest STR data, hotel supply and demand in Dubai increased 8.6% and 5.6% respectively in December compared to a year prior. Furthermore, the city's hotel sector reported occupancy rates exceeding 90% in the last week of the month, while New Year's Eve occupancies reached a remarkable 97.1%, with an average daily rate topping AED1,703.15 (US$464.26).
This trend bodes well for the full-year results, which will be published by Dubai Tourism in its annual Tourism Industry Performance report for 2018 in March.
As of October 2018, Dubai's hotel room inventory stood at 89,091 hotel guestrooms and 24,418 hotel apartments, according to data published in the latest ValuStrat Price Index. An estimated 2,713 additional guestrooms joined the market in the fourth quarter with 10 new hotels opening across the city during this time.
As of November 2018, there were 709 hotel establishments operating in Dubai, up from 675 a year earlier, according to Dubai Tourism.
More than 38,000 guestrooms were classified in the five-star category, compared to 29,322 in the four-star category and 22,391 in the three-star category.
Hotel Apartments reported the highest average occupancy rate across all accommodation categories from January to November, with the figure standing at 78%.
With Expo 2020 now looming, the rate of development in the hotel sector is expected to ramp up further in 2019 as the city closes in on its target of 132,000 hotel rooms by the end of 2019, marking a two-year compound annual growth rate (CAGR) of 11.1%, according to Dubai Tourism data.
Despite the sharp increase in supply, Dubai Tourism forecasts average occupancy rates to remain consistent at 76-78% through 2019.
Much of the activity in terms of hotel development has come in the mid-market sector. According to data supplied by JLL, the city's inventory of mid-market hotels has tripled since 2007, with more than 80 hotels now operating in the three-star category.
While JLL noted that the increase in room supply had impacted average daily rates (ADR) in 2018, the firm reaffirmed that Dubai still ranks among the world's top-performing hotel markets.
The Director General of Dubai Tourism, Helal Saeed Almarri, is confident the city's hospitality sector will continue to thrive in 2019.
"Dubai's hotel industry remains at the forefront of cross-sector efforts to drive tourism growth, as we collectively work towards realising our Tourism Vision and enable our 2020 goals," he says. "Dubai's position as the fourth most-visited city in the world, and the consistent growth in overnight visitation, has been achieved in large part thanks to the efforts of our committed stakeholders in the domestic hotel and hospitality sector." 
Dubai also remains on target to reach its target of 20 million visitors by 2020. During the January to November period last year, the city welcomed 14.3 million visitors, representing a marginal increase on the 14.24 million registered during the same period in 2017.
India once again proved Dubai's most important tourism source market during the surveyed period, with 1.845 visitors arriving in the city. Saudi Arabia ranked second, with 1.404 million visitors, followed by the UK (1.1 million), China (779,000) and Oman (750,000).
The city's top five fastest-growing source markets were Russia (+37% YoY) followed by Nigeria (+35% YoY), France (+17% YoY), China and Germany (both +12% YoY).