Dubai hotel rooms going fast for New Year's Eve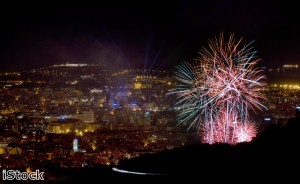 Anybody wishing to travel to Dubai to celebrate New Year's Eve in style may want to book accommodation soon, as hotel rooms are being snapped up quickly, with some being secured up to a year in advance.
A spokesperson for the Jumeirah Group told The National: "There is limited availability for rooms for New Year' Eve. Rooms and suites get booked exceptionally quickly, particularly within the first half of the year, with many guests booking a year in advance."
Hoteliers are able to increase room rates over the festive period, due to an increase in demand. Prices vary, depending on the duration of the stay, type of room and availability.
The representative added that guests travel from across the globe, coming from Russia, Germany, China, the UK and GCC countries. There is also local demand from places across the UAE.
Tourists tend to be attracted to hotels located on the coastline during their festive trips, as these rooms provide visitors with a clear view of the annual fireworks display that starts as soon as the clock strikes midnight.
The spokesperson added: "Based on past experience, we anticipate that rooms would be booked up by early December. Given the nature and ease of travel these days, the ability of a traveller to make a spontaneous decision is even easier than before."
Those living in the UAE look to Dubai for a break during New Year's Eve celebrations, with many opting for a 'staycation'. The Jumeirah Group representative said staying local has become popular as it offers increased convenience and less stress than booking an international holiday.
Last month, it was revealed that Dubai's hotel industry had experienced its busiest half year to date, attracting 5.8 million tourist between January and June. If demand continues at this pace, the sector could see phenomenal results for the whole year.
Helal Saeed Almarri, director-general of the Department of Tourism and Commerce Marketing, said: "The figures for the first half of 2014 are encouraging and we continue to build on this growth to ensure a successful second half of the year."