Dubai hotel rooms are a 'lucrative investment'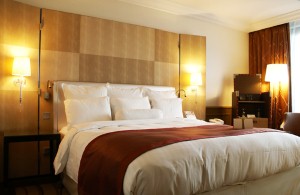 Dubai's tourism industry continues to go from strength to strength, leading to high demand for hotels, villas and apartments. The robustness of the sector means that the emirate's hotel rooms are a lucrative investment, providing buyers and investors with considerable profits.
Last year proved to be one of Dubai's tourism industry's most successful years, with the airport handling a record-breaking 71 million international passengers, meaning more people than ever before flocked to the emirate's shores.
The emirate has established itself as a leader in many different sectors of tourism, such as meetings, incentives, conferences and exhibitions (MICE) and leisure, appealing to more visitors than ever before.
As Dubai's tourism industry is showing no signs of slowing and is likely to beat the numbers it achieved in 2014 as the World Expo 2020 draws nearer, investing in the emirate's hotel rooms is a sound investment that could result in considerable profits throughout the year.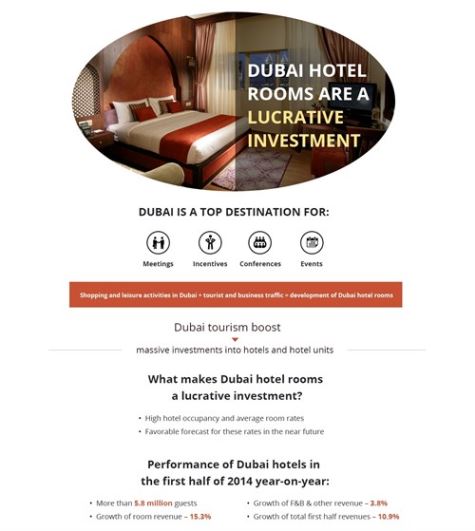 Dubai as a leader
With each passing week, Dubai's status as a leader for MICE tourism is bolstered with the emergence of figures that demonstrate just how popular the destination is for conferences and exhibitions.
Simon Mellor, president of dmg events for the Middle East and Asia, told the Khaleej Times that the sector is "poised for dynamic expansion" in the emirate during the coming years, contributing more and more to the economy.
He explained that since 2000, MICE tourism has generated a massive $653 million (£430.3 million) every year in the UAE and is instrumental in furthering organisational success, while playing a vital role in the country's economic development.
"For one, meetings, conventions and exhibitions create economic value, with increased travel and hospitality spending by MICE visitors who combine participation in events with leisure," he continued.
Mr Mellor believes that the sector has grown rapidly in Dubai over the last few years and is expected to expand further in the run-up to the World Expo 2020.
Growth in this sector will obviously have a positive impact on the emirate's hotel industry, as more visitors means higher demand for suitable high-quality accommodation. Investing in Dubai's hotel rooms means that your wallet will feel the benefit from the influx of MICE tourists.
Consistency
As Dubai's tourism industry continues to grow, hotels are experiencing consistent occupancy rates, even during periods historically viewed as slow for the sector, such as Ramadan and Eid.
During the first half of 2014, more than 5.8 million guests stayed in the emirate's hotel rooms and serviced apartments - the highest number of visitors ever recorded in a period of six months. The numbers speak for themselves and are testament to the efforts being made by the Department of Tourism and Commerce Marketing (DTCM) to achieve its vision of attracting 20 million travellers a year by 2020.
To achieve this goal, several campaigns have been launched to catch the attention of the world and show that Dubai is the perfect destination for a holiday or business venture. Recently, the DTCM created the 'See You in Dubai' and '#MyDubai' marketing drives to attract visitors from overseas.
In addition, the DTCM is working closely with travel agents and tour operators in several different countries to help them sell the emirate as a world-class destination for holidays. Last month, Dubai played host to 440 representatives from some of India's travel industry partners to give them a first-hand experience of what it can offer as a leisure and a business tourism destination.
Sheikh Ahmed bin Saeed Al-Maktoum, group chairman and chief executive of Emirates Airline, commented: "Our dynamic home city is developing apace, in line with Sheikh Mohammed bin Rashid Al Maktoum's Vision 2020. Whether they're new arrivals or they've been before, visitors to Dubai will always discover something new to enjoy and share in the emirate.
"Last year, Dubai welcomed more than 11 million visitors and our aim is to continue to grow these numbers by constantly enhancing every aspect of Dubai's destination offering, making our city the top choice for all types of travellers from across the globe."
Posted by Neil King