Dubai hotel occupancy grows in September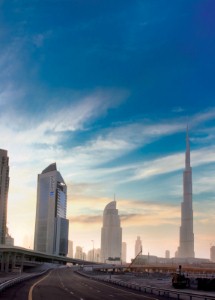 Hotel occupancy grew in Dubai last month, as both supply and demand increased.
According to statistics from research firm STR Global, the emirate's occupancy rate stood at 76.3 per cent in September. This represents an increase of 0.3 per cent on the same month last year.
Supply and demand also rose, growing by 7.4 per cent and 7.8 per cent respectively.
September's increase in occupancy rates follows a 2.1 per cent boost in August, which took the figure to 75.1 per cent.
Elizabeth Winkle, managing director of STR Global, stated: 'Supply and demand for Dubai increases, while both high, kept pace with one another; therefore, the city was able to maintain the same occupancy levels as the year before.'
Ms Winkle revealed she expects the emirate's revenue per available room to have increased by 2.2 per cent by the end of this year.
According to statistics from Dubai's Department of Tourism and Commerce Marketing, in excess of 7,000 new hotel rooms have been added in Dubai since June 2013. This takes the total number up to 88,680, with these rooms spread across 634 properties.
Such figures provide firm evidence of the attractive investment proposition hotels in Dubai represent.
Last month saw Eissam Kazim, chief executive of the Dubai Corporation for Tourism and Commerce Marketing, reveal plans are afoot to increase the number and range of hotels in the emirate during the build-up to the 2020 World Expo.
While Dubai is best known for its luxurious accommodation, Mr Kazim said he wants to see more three and four-star hotels developed in the city, providing a greater range of accommodation for the growing number of tourists set to visit over the next six years.
An example of how popular staying in the emirate is becoming has been provided by a spokesperson for the Jumeirah Group, who recently told The National hotel rooms for New Year's Eve are already in short supply as many have already been snapped up by people who want to be in Dubai to see 2015 in.