Dubai hosts mega fam trip for European tourism market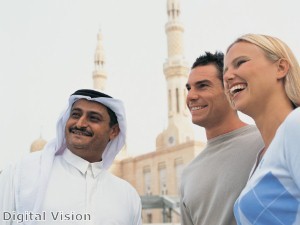 Last weekend, Dubai hosted a mega familiarisation (fam) trip for members of the European tourism market in a bid to strengthen awareness of the emirate's ability to host exhibitions and business events.
Over 100 influential meeting planners and business event journalists from countries across Europe were invited to the emirate between February 21st and 23rd as part of the Department of Tourism and Commerce Market's (DTCM's) drive to bolster Dubai's reputation as a world-class destination for international corporate events.
The fam trip was organised by Dubai Convention and Events Bureau - part of the DTCM - to promote the emirate as a 'must experience' destination for meetings, incentives, conferences and exhibitions (MICE) tourism, regardless of the scope or size of the gathering.
By inviting pivotal members of the industry in Europe, decision-makers and journalists to travel to the emirate, the organisation is hoping to create a platform for engagement to build support for Dubai's MICE offering and, ultimately, boost the number of visitors and corporate events it hosts every year.
During their three-day trip, guests were given tours of some of the leading hotels and meeting venues in the emirate. They also met with various destination management companies and tourism stakeholders.
However, it wasn't all work and no play for the group, as they got to experience some of Dubai's most popular leisure activities, such as swimming with dolphins at Jumeirah's Atlantis at the Palm and taking part in an aerial tour of the emirate with Seawings.
"Dubai has a robust offer as a destination in terms of infrastructure, service levels and general lifestyle features, which can't be fully communicated through trade shows, sales presentations, or promotional videos alone," said Steen Jakobsen, director of Dubai Business Events.
"Our international partners in the travel industry are much more likely to recommend Dubai as an events destination to their corporate clients after they see first-hand just how welcoming and convenient the city is for business and incentive trips."
Dubai's Tourism Vision for 2020, the government and private sector partners are collaborating in the hopes of doubling the number of tourists attracted to the emirate to 20 million a year in just five years' time.
The DTCM hopes this figure will be broken down into 17 million leisure tourists and 3.5 million visitors from the MICE industry.