Dubai honoured in Traveller's Choice Awards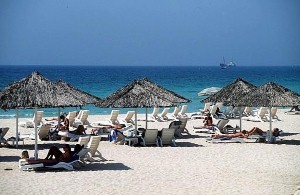 Dubai has been named one of the world's top tourism destinations.
For the first time, the emirate has appeared in the top 25 of TripAdvisor's Traveller's Choice Awards, coming in at number 17. It was the only nation in the Middle East region to achieve the accolade.
The awards are determined using an algorithm which takes into account the quality and quantity of TripAdvisor users over the last 12 months. In addition to the top spots globally, the study also includes lists for a selection of countries, continents and regions.
Istanbul in Turkey was named the best place to travel in the world, rising 11 places from the last survey to take the number one position. Rome climbed from fourth spot to take second place, while London maintained its place in third.
For the Middle East, Egypt's Sharm El Sheikh followed behind Dubai. The country dominated the top ten, with five resorts included in the list. Cairo came in at number four, while Dahab and Hurghada finished fifth and eighth respectively. Luxor was the final representative, in ninth position.
Dubai's success prompted Gulf Today to dedicate its editorial section to the emirate. It hailed the location's successful image as a dynamic centre for business and a tourist paradise, offering an unrivalled array of fine dining experienced and quality hotels.
The publication stated it was not just tourists that were beginning to notice Dubai, as an increasing number of global corporate enterprises were also taking an interest. Sheikh Mohammed bin Rashid Al Maktoum, vice-president and prime minister of the UAE, recently posted a story on Twitter about a Chinese company rewarding 16,000 of its employees with a vacation in the country.
Nu Skin is chartering 77 flights and has booked a total of 40 hotels and 400 guides for the party, in what will be the biggest group of tourists ever to visit Dubai. The firm has already begun transferring staff over to the emirate in seven batches of 2,000, with the cost of the excursion expecting to run into millions of dollars.
This will be the latest in a long line of boosts for the emirate's thriving tourism industry, which recently revealed it enjoyed a busy first nine months of last year. During the period January to September 2013, 7.9 million visitors came to Dubai, equating to a year-on-year increase of 9.8 per cent.