Dubai has 'reinvented itself in just ten years'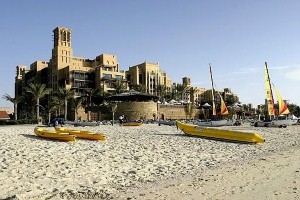 Over the last ten years, Dubai has transformed itself into a hub for business and a much-desired holiday destination, attracting millions of visitors every year.
A new infographic - released by Jumeriah to celebrate the tenth birthday of its five-star Madinat Jumeirah hotel - demonstrates how the ambitious attitude of the emirate's government has led to the population doubling in just a decade, with an average of 300 new people arriving to live in Dubai every day.
In addition, the emirate has made many technological advances, such as its driverless metro system, which is currently being extended so it can serve the influx of visitors expected to head to the World Expo 2020. Since its launch in 2009, it has transported over 443 million people, which is more than the entire population of the Middle East.
Jumeriah's Burj Khalifa tower is currently the world's tallest building, standing at 2,715 feet - so tall that people standing at the top will be experiencing weather that is 15 degrees cooler than those on the ground looking up.
Dubai is also home to another wonder of the world: Palm Jumeirah, the globe's largest man-made island. This artificial structure was constructed to 2001 and is so enormous it equates to the size of more than 784 football fields.
The emirate has worked hard to transform itself into a destination that attracts many different kinds of tourists, such as those seeking a sun-filled holiday and those heading to one of Dubai's many exhibition centres for business.
Every year, 75 million people pass through its airports and the same number hit its famous malls. Dubai also attracts artists from across the globe during its annual art fair, which is the leading contemporary exhibition for art in the Middle East and South Asia.
As the Department of Tourism and Commerce Marketing has ramped up its efforts to attract visitors in order to reach a target of enticing 20 million travellers every year by 2020, the tourism industry in Dubai looks set to flourish even further.