Dubai has 'most shopping space' per person in MENA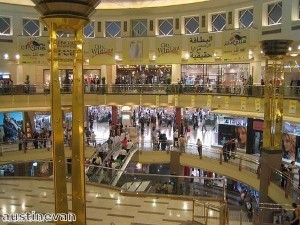 Dubai has the most shopping space per person within the Middle East and North Africa (MENA).
In a report by Colliers International, Dubai was shown to have 2.5 million sq m in gross leasable area, the highest among MENA's major markets, Gulf News reports.
The sheikhdom has also expanded its trade space by two per cent since last year, with the opening of City Walk and expansion at the Al Ghurair Centre. These are, of course, just two of the emirate's many retail destinations, which includes Dubai Mall, one of the world's largest shopping centres.
According to the report, the available space for this industry will increase by 369,000 sq m by the end of 2015, with planned expansion at Dubai Mall and various projects near Jumeirah beach.
It states the market looks weak when compared to Dubai's actual population, with 1.35 sq m of space per person, one of the highest ratios in the UAE. Yet its huge shopping privileges are not specifically enjoyed exclusively by residents, as the sheikdom caters to a much broader, international audience.
Colliers International's regional director for the Middle East Stuart Gissing said: 'When [tourism figures are] used, Dubai remains very buoyant and there would be further room for growth.'
'Dubai has one of the highest representations of retail products globally and this can only be a good thing in our opinion. Wider brand presence offers a wider customer appeal.'
The emirate is well known for its abundance of stores, which offer a strong tourism attraction all year around. For instance, early next year it will host the annual Dubai Shopping Festival, which will run from January 2nd to February 2nd. Originally started in 1996, this occasion has expanded to include sporting film festivals, street displays, fireworks and fashion shows alongside it.
Its passion for retail can again be seen during Eid Al Adha where, in recent years, stores opened for 24 hours, with malls staying open throughout this period.