Dubai hailed the 'Manhattan of the Middle East'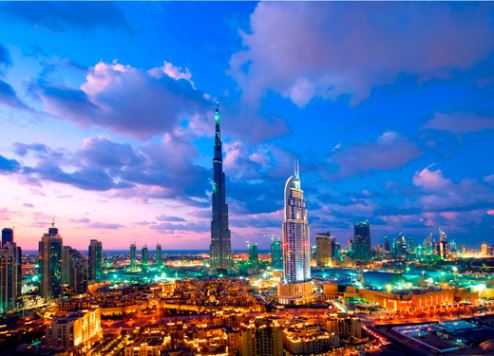 Dubai has been hailed the 'Manhattan of the Middle East' by Australian business intelligence resource, Business Insider.
Home to some of the world's most iconic buildings and skyscrapers, from the seven-star Burj al Arab hotel to the world's tallest building, the Burj Khalifa, the city boasts not one, but three impressive skylines – at Downtown Dubai, along Sheikh Zayed Road near Dubai International Financial Centre (DIFC) and further south at Dubai Marina.
"Multimillion-dollar apartments and a bustling tourist scene have put Dubai on the radar of the ultra-wealthy," according to Business Insider.
"Some are even calling Dubai 'the Manhattan of the Middle East', but its year-round sunshine and warm weather is an advantage that even New York City can't beat. Trendy restaurants and bars, water sports, and other attractions keep both the locals and foreigners happy, and its skyline is a new level of urban beauty."
Business Insider provides insight into the highlights of the UAE's Big Apple equivalent with a 15-photo spread describing what sets Dubai apart as a Middle East metropolis.
It points to the skyscrapers of Dubai Marina (with more than 150 high-rise buildings) and more recently, Jumeirah Lakes Towers, as districts with 'Manhattan-style' architecture and amenities.
Dubai's real estate market is ranked on par with New York, noting how a 12,400-square-foot apartment in Downtown Dubai recently sold for US$15.25 million.
Skyline pools and gyms with panoramic views are also cited as Dubai features considered Manhattan-esque.
"Before dinner you can take a sunset cruise around the marina with fellow tourists," the Business Insider article continued.
"'Dintertainment' has become a popular trend in the city – restaurants are not only providing food, but entertainment like cabaret shows and karaoke," it said.
The resource also refers to Dubai's reputation as the region's gastronomic hub, with a wide choice of cuisines and world-class restaurants.
The destination's family-friendly amenities are promoted too, with Dubai Aquarium at Dubai Mall and the new trampoline park inside Mall of the Emirates considered top attractions.
"Dubai's Department of Tourism has reportedly set a goal of between 7 and 9 percent annual growth in tourism, aiming for 20 million tourists by 2020," said Business Insider. "Given the stunning skyline, numerous nightlife options and incredible food, this shouldn't be an issue."