Dubai government launches 'smart city' initiative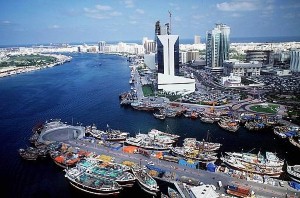 Dubai's municipality government has announced its plan to create a 'smart city'.
The initiative was launched by Sheikh Mohammed bin Rashid Al Maktoum, Vice-President and Prime Minister of the UAE and Ruler of Dubai, in the presence of other dignitaries. The scheme is set to take place over the next three years.
It is understood over 1,000 government services will go smart throughout the duration of the plans, with schemes in place to improve current initiatives on transport, communication and infrastructure. Some projects that were highlighted at the launch included making free WiFi available on the bus and Metro systems and the introduction of more charging stations for electric vehicles. 
Meanwhile, the Roads and Transport Authority (RTA) announced plans to develop a parking system that alerted drivers of available spaces as soon as they entered a street. On top of this, the Dubai Electric and Water Authority (DEWA) said it would install smart meters for customers, enabling them to keep better track of the amount of energy they consume.
Progress of the scheme will be monitored by a 5D control room, which will also be used to keep track of government projects, including departments interested in transport, service indicators and weather conditions. A large global laboratory is also planned, to be used by specialist companies and creative people alike.
Officials state the plans are based on three key ideals: communication, integration and cooperation. They want residents to be able to speak more efficiently with government entities, while facilitating the easy access and sharing of data about topics such as schools, hospitals and energy, via the 'My Window to Dubai' programme.
Crown Prince Sheikh Hamdan bin Mohammed bin Rashid Al Maktoum commented: ""We promise all investors, residents, those interested and above all the UAE citizens, will experience broad changes over the coming period; we are part of Sheikh Mohammed bin Rashid's team; we are competent to face the challenge he had set for us."
The government stated it is confident the process will be straightforward, as the majority of infrastructure is already in place to carry out the plans. Indeed, the managing director of Cisco's Smart City initiative claimed Dubai was already much more advanced than other locations that call themselves smart.