Dubai gets ship shape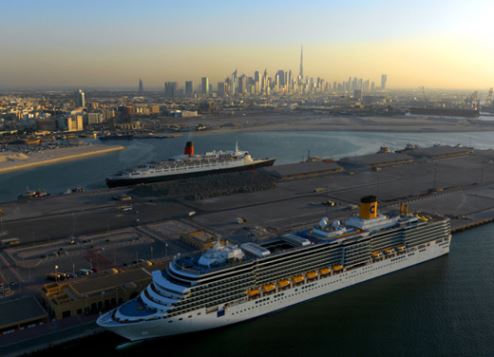 The emirate is ramping up its port credentials to attract more cruise lines and tourists to its shores
Dubai recently revealed ambitious plans to attract one million cruise tourists by 2020 – part of its overall strategy to welcome 20 million tourists by the end of the decade.
The emirate anticipates more than 600,000 cruise tourists during the current 2016-17 cruise season when a record 157 ships will call at its port, Mina Rashid, up 16 percent on the 2015-16 season when 134 cruise ships were received.
The 157 calls includes 10 maiden calls, further cementing Dubai's reputation as the Gulf region's leading cruise hub.
Thomson Cruises will be the first ever UK-based cruise line to home port in Dubai this season, joining Dubai's existing home porting cruise operators, namely Costa Cruises, Aida Cruises, Royal Caribbean International, MSC Cruise Lines and TUI Cruises.
Amongst the ships making maiden calls are Celebrity Constellation, part of the Celebrity Cruises fleet. The ship is scheduled to make four overnight and six day calls to Dubai between November 29, 2016 and April 16, 2017, bringing more than 15,000 cruise tourists to the city.
Dubai is making solid progress in the cruise tourism arena, but never a destination to rest on its laurels, plans are afoot to take its offering to the next level.
Earlier this month, DP World, which operates Rashid Port, revealed that work to improve facilities for cruise liner tourists docking in Dubai would start in early 2017.
This will involve connecting terminal 2 and 3 with a 465-metre bridge, as well as increasing the number of quays, while an additional terminal will be built to create more capacity to accommodate the increasing number of cruise ships visiting Dubai.
"The strategic plan to attract one million cruise tourists by 2020 is on track following a clear road map. His Highness Sheikh Mohammed bin Rashid Al Maktoum, Vice President and Prime Minister and Ruler of Dubai, is closely following up on this to make sure Dubai and the UAE become a regional and international hub for cruise tourism," says DP World group chairman and CEO Sultan Ahmed bin Sulayem.
"Thanks to His Highness's vision, Dubai goes the extra mile to be a top tourist destination."
Mohammed Al Mannaei, director, Mina (port) Rashid adds: "The UAE has all potentials to be the top cruise destination, and this is our target in the next few years. The port can receive seven cruise ships simultaneously on a 1,900-metre quay and a capacity of 18,000 tourists through terminals 2 and 3. Cruise Terminal 3 is the biggest of its type worldwide with a capacity of 14,000 passengers and 125,000 square metres of area."
Key tourism stakeholders are also playing their part with Dnata Airport Operations recently marking 10 years of working with Dubai Tourism to establish Dubai as a global cruise hub.
Just a decade ago, Dubai handled 55 cruise ships with 106,000 passengers. Today, more than 23 of the world's leading cruise lines have Dubai as a port of call for their passenger turnaround and six world-class cruise lines home port in the city.
Dnata, which is part of the Emirates Group, has created an integrated product for cruises that provides a seamless experience for passengers, including airport handling, transfer of passengers and baggage, shore excursions, retail sales, cruise crew rotations among other functions.
"Dnata Airport Operations has been actively involved in the growth of the cruise business since 2006, and we have worked tirelessly to help establish Dubai as global cruise hub. The phenomenal growth we have seen in such a short span of time, is really a testament to how invested Dubai and its partners are in creating an exciting proposition for cruise companies and customers alike," says Emma Deane – vice president, commercial & business development, Dnata Airport Operations.
For the winter cruise season, dnata welcomes the UK's Thomson Cruises to Dubai, with the emirate named as the new home port for the Thomson Celebration cruise ship.
Six regional airports in the UK will now be serving Dubai: Manchester, Cardiff, Birmingham, Newcastle, Glasgow and London Gatwick, with the Dnata DWC Airport Operations team handling the complete turnaround of the cruise charter flights.
Another key source market for Dubai's fledgling cruise tourism industry is India – a point that was discussed at the Seatrade Middle East Cruise Forum, which took place in Abu Dhabi earlier this month.
With India's major cities up to four hours' flying distance from Dubai and other Gulf cruise destinations, the growth opportunities for cruise tourism are boundless, according to Cruise Arabia – a united partnership that brings together six GCC tourism authorities with the aim of promoting the region as a preferred winter destination for cruise travel.
Spearheaded by Dubai Tourism in 2013, the Cruise Arabia membership currently includes Abu Dhabi Tourism & Culture Authority (TCA Abu Dhabi); Bahrain Tourism & Exhibitions Authority; Sharjah Commerce and Tourism Development Authority (SCTDA); Oman Ministry of Tourism and Qatar Tourism Authority.
Sharing Cruise Arabia's growth plans at the forum, Hamad M Bin Mejren, senior vice president, Stakeholders Department, Dubai Tourism, says: "Cruise Arabia has initiated discussions with the relevant ministry departments in India and we are looking to develop co-operation moving forward. The proximity of the Indian subcontinent is perfect for cruise tourism and we will work with cruise lines to identify itineraries originating from the Middle East for the 12- to 14-day duration trips in particular."
Clare Ward, director, product & customer services, Fred. Olsen Cruise Lines, agrees: "India is hugely important to the UK market with strong historic links both from the UK and from this region. We know there will be infrastructural challenges but the cruise growth potential is huge."