Dubai GCSE students outperform UK counterparts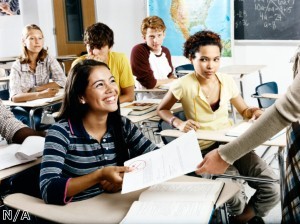 Students in Dubai are celebrating receiving strong results in this year's GCSE exams.
Nearly half of the grades (46 per cent) achieved by pupils at Jumeirah College, which is run by the Gems Education group, were either A* or A, while the figure was 45 per cent for the Cambridge International college.
This means many students in Dubai outperformed their counterparts in the UK, where the GCSE exam originates, as A* and A grades only accounted for 21 per cent of the total in the European country.
Margaret Atack, group senior director for education at GEMS, commented: 'These results, which continue to be well above UAE, UK, IB and International norms, do not just happen.
'They are a result of the exceptional inputs from the students themselves, our teaching staff, and of equal importance, engagement of GEMS parents in their child's learning journey.'
Further schools that outperformed the UK include the Dubai British school, where A* and A grades made up 39 per cent of the total, which is an increase of five per cent on the results recorded last year.
GCSE exams are an internationally-recognised qualification for young people and the fact that Dubai-based students have performed so well is testament to the strength of the emirate's education sector.
Indeed, this if part of the reason why the city attracts so many expats and remains hugely popular with property investors.
These positive GCSE results are not the first good news the emirate's education sector has received this week, as on Sunday (August 18th) it was revealed the city's universities are set for growth.
According to the Dubai International Academic City (DIAC), the higher education institutions based on its premises will be increasing the number of courses they offer by more than ten per cent for the upcoming academic year.
Dr Ayoub Kazim, DIAC managing director, stated: 'We see this as a sure sign that the higher education sector in the region is responding to the demands of local industry'.