Dubai Frame's construction begins next month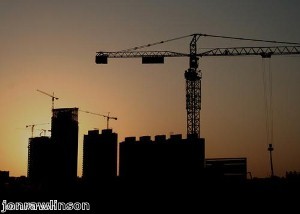 Construction work on Dubai Frame, set to be one of the city's most recognisable landmarks, will start in December.
When completed, the structure will provide a 150 m high and 93 m wide frame located close to Zabeel Park's Star Gate, offering views separating the old and new aspects of Dubai.
It is set to allow visitors to look at both sides of the emirate, with Dubai Frame acting as a link bridging the two.
Speaking to Gulf News, director general of Dubai Municipality Hussain Nasser Lootah said: 'We are looking forward to a unique architectural landmark that matches the global status of Dubai.
'Apart from offering the best and globally acclaimed municipal services, we are adopting policies and executing projects that support the business and tourism sectors of Dubai, which comes within our strategic vision.'
He claimed Dubai Municipality had performed various studies to determine the best location to build the attraction.
When completed, the ground floor will also house a gallery, focusing on the history of the land and how it became a global destination from the 1960s onwards.
Zabeel Park is already a popular location in the sheikdom, offering greenery and open spaces in Dubai's modern urban landscape. Its location allows the frame to provide views of the modern skyscrapers or traditional, quieter areas, depending on which side a visitor is standing.
The entire project is said to cost AED 120 million (£20 million), but the emirate could make this money back from added tourism.
Mr Lootah told Khaleej Times the landmark is expected to become one of the city's most attractive tourism attractions, bringing in approximately two million visitors per year. How much it will make in revenue, if it even aims to charge visitors anything, is currently unknown, but the added footfall is great news for the surrounding tourism and hospitality sector.
The design for the project was originally part of an international design competition, the Thyssenkrupp Elevator Architecture award, with the frame design by Fernando Donis eventually winning.
Current estimates expect the structure to be built by the end of 2015.