Dubai family holidays to rival Orlando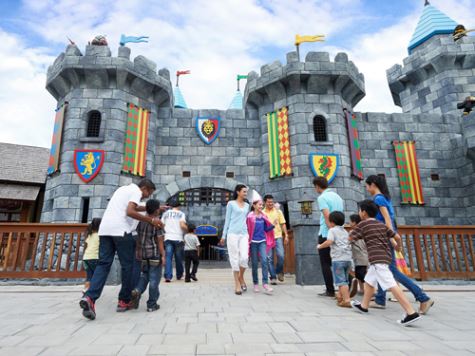 While its rivals take pause amid falling oil prices and political uncertainty, Dubai is forging ahead with a host of tourism megaprojects that will reinforce its growing reputation as one of the world's top family-friendly destinations.
Dubai will take its family-friendly holiday appeal to the next level with the development of a host of leisure and entertainment (L&E) attractions that are scheduled to open before the end of the decade.
The emirate is spearheading the expansion of the UAE's L&E sector via its focus on theme park megaprojects; the development of which will see it rival and possibly eclipse the world's most popular theme park destinations such as Orlando, Florida, for international appeal.
According to a recent report published by PriceWaterhouseCoopers (PwC), the UAE L&E market will attract 30 million international visitors and 45 million in total by 2021. PwC is confident theme parks planned or currently under construction will attract 18 million visitors in total the same year.
Benchmarking the UAE against Orlando in terms of its potential, PwC found the Gulf country already rivals the US destination for scale, transportation links, and food & beverage facilities. Furthermore, the country's central location – within 8 hours of 6 billion people - provides an unrivalled advantage to further transform the industry, it says.
"The UAE has come a long way to realise its global ambition of becoming an L&E hub, and rival Orlando, which is the current market leader," says Philip Shepherd, Partner, PwC Middle East Hospitality & Leisure Leader.
"The country has recognised that it needs to continue investment and focus on the quality of attractions, as well as appealing to a diverse visitor base from across the world."
Shepherd believes the key to success will be enabling visitors to enjoy multiple attractions during their visit – a strategy Dubai is pursuing with the development of an eclectic mix of theme park attractions that are all due to open within the next five years.
"Offering multi-park tickets, all inclusive packages and coordinated visitor management from booking through inbound and local transportation, hotels and attractions will be crucial," he adds.
Headlining Dubai's theme park development strategy, and underlining its efforts to appeal to an array of international markets, is the enormous Dubai Parks and Resorts.
When it opens in October 2016, the facility will feature three distinct theme parks – motiongate, LEGOLAND and Bollywood Parks – and house 73 main attractions.
The 500-room, four-star Lapita Hotel will also be built as part of the development, as will a retail, dining and entertainment precinct housing 35 retail outlets, 20 F&B outlets and 65 restaurants, which will be branded Riverpark. Dubai Parks and Resorts is expected to attract 5.5 million visitors in its first full-year of operation.
Highlighting the sheer scale of the project and the facilities on offer, Dubai Parks and Resorts estimates it would take a visitor 18 hours to experience all the attractions across the three theme parks.
Elsewhere in the emirate, IMG Worlds of Adventure is a 1.5 million sq foot project that is set to become the world's largest temperature-controlled indoor themed-entertainment destination when it opens next year. The theme park will also be the first in the world to bring together the MARVEL and Cartoon Network brands under one roof. It will boast capacity for 20,000 visitors daily.
Hailed as a 'city within a city', the $10 billion Mohammed Bin Rashid City megaproject will house a water park, Universal Studios theme park, the world's largest swimming pool (at 40 acres), a mega mall and 100 hotels when it opens to the public in 2022.
A 210-metre Dubai Eye Ferris wheel – inspired by the UK capital's London Eye and set to be the world's largest – will be the focal point of the forthcoming Bluewaters island project, which is currently being constructed just off the coast adjacent to Jumeirah Beach Residence.
The island is expected to attract more than three million visitors annually, is scheduled to open in Q1, 2018.
Meanwhile, the Dubai Safari is expected to open in the third-quarter of 2016.
The AED1bn development will cover 119 hectares of land and feature more than 1,000 species of animals. The park will house a safari village, Arabian village, Asian village, African village, children's zoo, butterfly park and botanical garden, in addition to educational and veterinary facilities. Visitors will be able to get up close and personal with roaming beasts including lions, gazelles and elephants from the comfort of air-conditioned 4x4s.