Dubai Expo organisers plan for 'greener, cleaner future'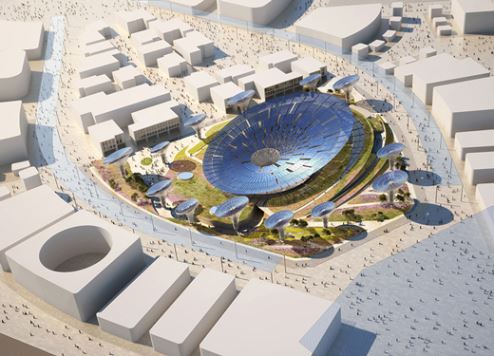 Dubai World Expo's hotly-anticipated Sustainability Pavilion aims to inspire a new generation of 'guardians of the earth's welfare'
From October 2020 to April 2021, Dubai aims to welcome 25 million visitors, international and domestic, to its World Expo.
Marking the first time this global exposition has been staged in the Middle East, the event will be held at a 4.38-square-kilometre site in Dubai South, close to three of the world's leading international airports; Dubai International, Dubai World Central and Abu Dhabi International.
More than 180 countries are anticipated to be involved in the event and 70 percent of visitors will travel from outside of the UAE –representing the largest proportion of international visitors in Expo history.
Expo 2020 Dubai's over-arching theme, 'Connecting Minds, Creating the Future', acknowledges that creating sustainable solutions to global challenges demands collaboration between cultures, nations and regions.
Expo organisers say that while the short-term goal is to deliver an exceptional six-month event, just as important is the creation of a meaningful legacy, and that means championing sustainability for the long-term benefit of all.
Earlier this month, details of expo's strategy to promote a "greener and cleaner future" were revealed.
Integral to this is the event's Sustainability Pavilion, which is envisioned to provide inspiration for a new generation of "guardians of the earth's welfare".
Design plans for the structure, which will be located at the heart of the expo site, were exhibited for the first time at Abu Dhabi Sustainability Week (ADSW), which was staged from January 16 to 19.
The pavilion is expected to be a magnet for Expo 2020 Dubai visitors, especially young people interested in science and best-practice sustainability.
It will continue its immersive and educational mission as a science 'Exploratorium' after expo's April 2021 closure.
Expo 2020 Dubai's ambitions align closely with those of the UAE, which has elevated the issue of sustainable progress to become a core pillar of government strategy as seen in the UAE Vision 2021, and numerous sustainability initiatives within the country.
Her Excellency Reem Al Hashimy, UAE Minister of State for International Cooperation and Director General, Expo 2020 Dubai, says the Sustainability Pavilion's structure and its exhibitions are the building blocks of a more important overall ambition to encourage a fundamental shift in the mindsets of its visitors, the nation and the region in general.
"Sustainability is at the heart of this World Expo and the legacy we aim to leave behind for the region. Our Sustainability Pavilion will play a major part in this effort, and will serve as an 'oasis' for sustainable and innovative experiences and practices – linking to the strategy of the UAE government to be a leader in sustainability on a global scale," she says.
"With the world's population growing at such a rate and its consumption of our natural resources expanding ever faster, we need all the converts to a more sustainable way of living we can find and we should start with the young.
"So we see our mission at Expo 2020 Dubai as nothing less than a moral obligation to ensure that these touchpoints of education and inspiration are meaningful, lasting and relevant to the 25 million visitors we hope to attract."
The Sustainability Pavilion is planned to take much of its energy and water needs from the sun and atmosphere, one of the world's first large scale applications of such technology. The Pavilion will be a tangible testament to the focus and progress made in the field of sustainability in the UAE, and at the same time, showcase global best practices.
Expo 2020 organisers have recruited a world-class team of architects, designers and experts from the fields of ecology and technology to design the Pavilion, which will be unique in the region and 'an oasis' for sustainable living in a desert environment. It is expected to attract some 30,000 visitors every day.
UK-based Grimshaw Architects won an international bidding process to build the Sustainability Pavilion, alongside US design firm Thinc and engineers from BuroHappold.
Grimshaw Architects deputy chairman Andrew Whalley says the building design draws inspiration from nature's models of sustainability such as the process of photosynthesis, which nourishes plants and flowers, capturing energy from sunlight and fresh water from the humid air.
"We want the pavilion to be an example of what really can be done in even the harsh environment of the desert, where it's hot and there's a shortage of water," he says.
 "We will use cutting-edge technologies that will be tomorrow's everyday realities."