Dubai Expo 2020 team visits Milan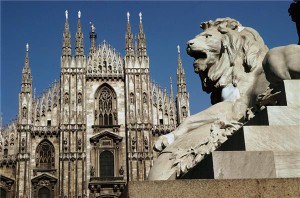 Yesterday (November 9th), Dubai's World Expo 2020 team announced that it has visited Milan ahead of the 2015 Expo in order to examine how the Italian city is preparing to host the major event.
The team, made up of representatives from the Dubai Road and Transport Authority, police, World Trade Centre, municipality and the Expo 2020 Bureau, headed to Milan to observe what final arrangements their Italian counterparts were making before the start of the six-month event.
'Feeding the planet, energy for life' - Italy's winning concept - will explore how to tackle global food and hunger challenges during its run, scheduled to take place between May 1st and October 31st 2015.
In a statement, Dubai's Expo team said: "Given the planning of World Expos is a complex and multifaceted planning operation, the Dubai team was pleased to get an early look at the strategies, priorities, challenges and remedial measures put in place for such a large-scale global event."
Reem Al Hashimi, managing director of the Expo 2020 Dubai Higher Committee and director general of Expo 2020 Bureau, said that meeting former hosts is key to holding a successful event, as it gives planners a chance to learn all of the operational challenges that they may encounter.
She continued: "Such a large-scale event will have a substantial impact on our communities and it is imperative that this impact is foreseeable where possible, issues are addressed and outcomes are positive before, during and after the event."
During the Milan Expo 2015, the UAE will have a country pavillion, which representatives will use to promote the 2020 event, set to be based on its winning theme 'Connecting Minds, Creating the Future'.
Noura Mohammed Juma, UAE consulate general to Milan and a member of Dubai's Expo 2020 team, said Italy's team has put an enormous amount of time and effort into their preparation and he described the offer to preview their operations as generous.
Dubai fended off stiff competition from Ekaterinburg, Izmir and Sao Paulo to win the prestigious honour of hosting the 2020 World Expo last November. The event, which will run from October 2020 to April 2021, will coincide with the UAE's golden jubilee celebration.
The Expo is expected to attract 25 million visitors during its run, 17 million of which will be international, and it will add an estimated $24 billion (£15 billion) to the UAE's economy.